The highest-paid independent directors who sit on the boards of public companies in India received a fee hike bigger than the average increment that top salaried executives got last year, according to a VCCircle analysis.
The median increase in the fee for the 10 highest-paid independent directors was 11.82%. The top-paid executives got a median increase of 7.83% in their cash remuneration in financial year 2016-17. (Click here for the listing of the highest-paid executives in the country.)
To be fair, this is not an apple-to-apple comparison as the firms that paid large fees to independent directors are typically different from the ones that paid big bucks to their top management.
But the divergence in pay hike of the two sets of top guns shows how independent directorship, at least in a bunch of companies, comes with serious rewards. This is in tune with the critical responsibility of such outsiders to strike a balance and weed out potential conflict of interest between stakeholders of a public company including the top management.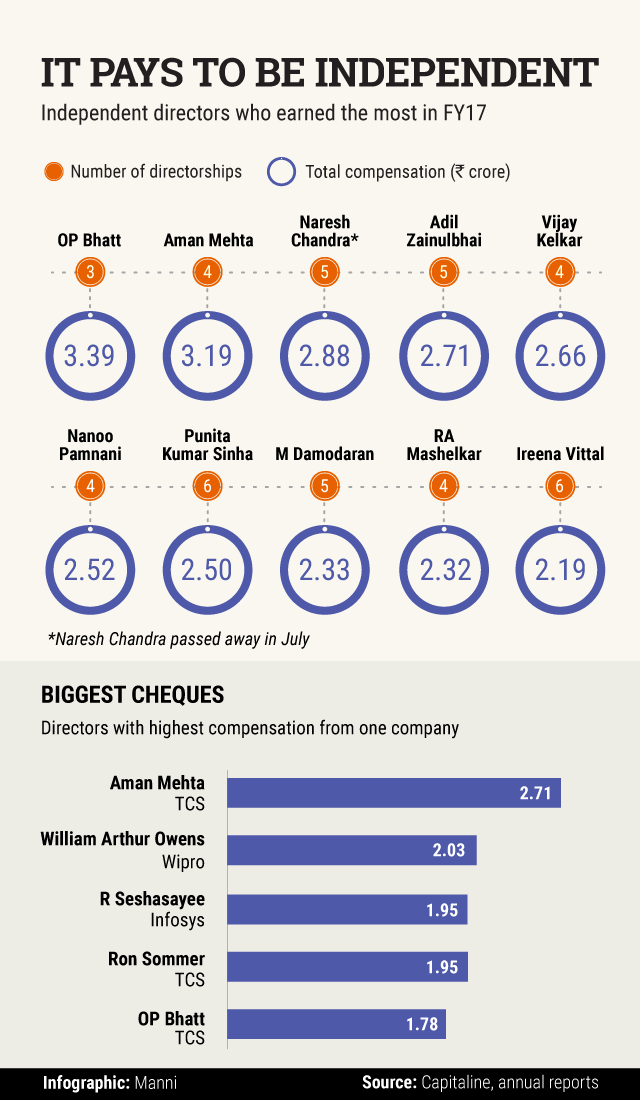 "The companies need to compensate people for coming and contributing to the board if they want to attract the right people," says Amit Tandon, founder and managing director of Mumbai-based proxy advisory firm Institutional Investor Advisory Services.
Om Prakash Bhatt, former chairman of State Bank of India, emerged as the top-paid independent director in listed companies with a board position in Tata Consultancy Services, Tata Steel and fast-moving consumer goods major Hindustan Unilever. He received a total remuneration of Rs 3.39 crore.
While his sitting fee declined marginally at Hindustan Unilever, he more than made up for it with a 16% remuneration hike at Tata Steel and a 20% rise in total payment at TCS.
In the process, he surpassed the money pocketed by Aman Mehta, former chief executive officer of HSBC Asia Pacific. Mehta, who held the top spot the previous year, dropped a position after his remuneration fell 16% to Rs 3.19 crore.
Mehta is currently on the board of six companies including Vedanta, Tata Steel and Tata Consultancy Services. However, his total remuneration only captures payment received from four of them as he joined Vedanta and Tata Steel board either at the end of last fiscal year or after that.
Naresh Chandra, a former bureaucrat who passed away in July, occupied the third slot thanks to a sharp rise in total remuneration.
Interestingly, Nanoo Pamnani is the only member in the list who held independent directorships only in the companies of a single group. The former Citibank executive is on the boards of Bajaj Finserv, Bajaj Finance, Bajaj Auto and Bajaj Holdings & Investment. He earned more than half of his compensation from Bajaj Finance.
Punita Kumar Sinha and Ireena Vittal are the only two women independent directors on the list.
Sinha is founder and managing partner of Asia-focussed investment advisory firm Pacific Paradigm Advisors and has previously worked at private equity giant Blackstone. She is also married to Jayant Sinha, minister of state for civil aviation, a former venture capital executive himself.
Vittal is a former partner with McKinsey & Company.
Independent directors' compensation is largely in two parts - sitting fee for attending board meetings and commission. The real moolah comes from this commission, which is a cut from the profit that the companies make.
Tata group flagship firms, the top IT services companies and Bharti Airtel, among others, are known to give big commission to their independent directors.
Mehta, Sinha and Vittal sit on the board of at least six companies. (In 2017-18, Aman Mehta was inducted into Vedanta and Tata Steel).
"It takes typically 150-200 days (of work) for being on the board of five to six companies in India," said Amit Tandon, when asked about the work load on independent directors with multiple directorships. The independent directors with full-time day jobs will find it difficult to hold multiple board positions.