The pain in the industrial sector is yet to show signs of an improvement with data compiled for private non-financial sector companies in the country showing aggregate sales actually declining in the fourth quarter ended March 31, 2015, over the year-ago period.
Although the revenue growth rate has been fluctuating down the quarters, this is the first time sales actually declined in the past three years.
The dismal performance of manufacturing sector in particular led to a 4.7 per cent decline in aggregate sales of such firms during Q4 FY15. Net profit of non-financial private sector companies too declined by 12.5 per cent in the same period, according to a report by RBI.
Operating profit or EBITDA margins also shrunk compared with Q4 FY14.
Profit for the manufacturing sector declined 11.9 per cent while that for IT slumped by 15.6 per cent over the year-ago period. Net profit of manufacturing sector firms had increased from the previous quarter ended December 31, 2014, but it declined by 22.5 per cent for IT companies, sequentially.
Sales data of 2,712 private sector companies during the fourth quarter of the last fiscal showed a decline of 7.2 per cent in manufacturing while IT and services also slowed down compared with Q3 FY14/15. Sales in IT slowed to 5.4 per cent from a 18 per cent growth last year; on the other hand, sales in the service industry grew 11.1 per cent from 2.8 per cent in Q4 of FY14.
The report highlights that while sales declined for all companies, smaller firms are the worst hit. Companies with annualised top-line of less than Rs 25 crore saw sales more than halve while those with sales of Rs 1,000 crore and above saw a relatively modest decline in revenues of 4.2 per cent.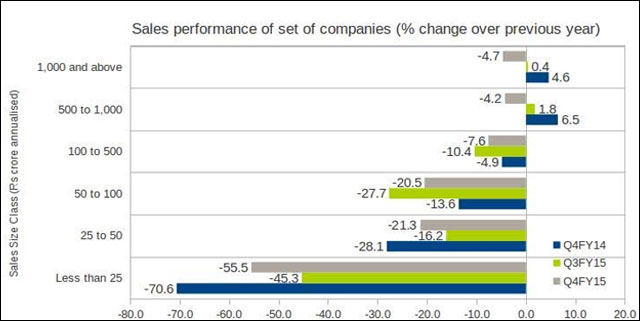 India Inc at large has taken a hit due to the weak global environment and slow pace of recovery in the economy. Though the new government has taken some decisions to improve the ease of doing business, a lot will depend on the government's ability to implement these reforms.
RBI said coverage of companies in different quarters varies to some extent, depending on the date of declaration of quarterly results but "it is not expected to alter the aggregate position significantly".