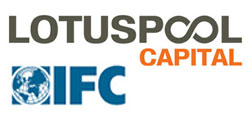 International Finance Corporation is looking to invest $15 million in LotusPool Fund I, a private equity fund targeting buyout deals in small and medium enterprises (SMEs) segment. LotusPool, set up by former ePlanet Capital managing partner Chandrasekar Kandasamy and former Actis partner Subbarao Telidevara, is looking to raise $125 million for its maiden fund.
LotusPool is targeting deals in South India and other states with low private equity penetration. The fund will focus on taking controlling stakes in scalable SMEs that are at early expansion phase of their growth cycle.
When contacted by VCCircle, LotusPool Capital declined to comment on its fundraising or strategy.
Sources said that LotusPool Capital will look to invest in low capital intensive companies in sectors like technology, healthcare and specialised manufacturing. The fund will look to invest from $2 million to $10-12 million in companies with revenues of Rs 20 crore to Rs 200 crore.
While the fund is focused on South India, it will also invest in other states like Madhya Pradesh, Rajasthan and West Bengal. LotusPool plans to invest in profitable or near profitable companies but will also back distressed companies.
The fund will be managed by LotusPool Capital Mauritius and advised by Bangalore-based LotusPool Capital Advisors.
Both Kandasamy and Telidevara have been working in the Indian private equity industry since early 1990s. LotusPool has been building its advisory team with former Actis India head Donald Peck and ex-chairman of Steel Authority of India (SAIL) Arvind Pande.
The firm has also roped in former Murugappa Group chairman P Surendra Pai, Trivitron Group founder Dr GSK Velu and Nuware Technologies founder Venk Krishnan as strategic partners for the fund.
VCCircle earlier reported that IFC, the private investment arm of World Bank, is looking to invest $60-80 million in India-focused private equity funds by June 2014. IFC has invested in several mid-market funds besides backing new general partners (GPs) like CapAleph Indian Millennium Fund and Pragati India Fund.
(Edited by Joby Puthuparampil Johnson)