A couple of years ago, the Kerala Government set up a biotech incubator on the outskirts of the state's business hub, Kochi, for nurturing talents in the sector. The incubator failed to elicit any response and faded into oblivion.
The building was left unused since then until a bunch of IT entrepreneurs led by Sijo Kuruvila George and Sanjay Vijayakumar of MobME, a startup in the mobile VAS space, approached the government to hand a portion of it to nurture entrepreneurial talent in the IT sector. The government did not have to think twice and India's first public-private-partnership (PPP) model technology business incubator Startup Village took birth.
With just six rooms in the only floor in the 5,000 sq. ft. area, the building now lacks enough space. The Kerala Industrial Infrastructure Development Corporation (KINFRA) stepped in to lease 10,000 sq. ft., a stone's throw away from the Village. The construction of the new structure is fast progressing. By September-October this year, it will see the entry of some 10 more start-ups. The screening process is on.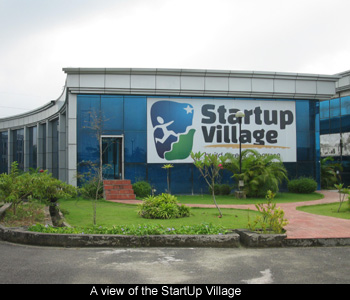 A stroll in the Village
At present, a co-working space has been set up for aspiring entrepreneurs to refine their ideas till they get admitted to the incubator. Larger-than-life portraits of Jack Dorsey of Twitter, Steve Jobs adorn the walls.
A few banyan saplings have been planted by Infosys co-chairman Kris Gopalakrishnan and some other high-profile personalities, a symbolic representation of nurturing young talents. Each startup that gets admitted to the incubator will plant a fruit tree in the garden.
Inaugurated in April by Kris, the StartUp village is primarily focused on student startups from college campuses. Located at Kalamassery, a 45-minute drive from Kochi, the Village, promoted by the Department of Science and Technology (DST), Technopark, Thiruvananthapuram, and MobME, has already allotted office spaces to two promising startups on a low rental of Rs. 1,000 per seat monthly.
Says Sijo Kuruvila George, CEO, StartUp Village, "We will create an ecosystem and provide a platform for startups across India to create breakthrough technologies for the global telecommunications industry. As a business incubator, it will provide physical infrastructure, technology and service infrastructure and mentor capital." The startups that get incubated in the Village will have to vacate once the three-year programme is over.
Although the Village's key focus is Internet and telecom-based product companies, it will also consider other players outside these domains, based on merit. The state government follows a hub-and-spoke model aimed at creating Thiruvananthapuram the State capital, and Kochi as IT hubs. There is one incubator at Technopark in Thiruvananthapuram and that's why it chose Kochi to complete the incubator link for IT Parks.
"We plan to add 100,000 sq ft to the Village campus in the next 18-24 months, which would possibly make it one of the top five incubators in the world and the largest in telecom globally," says Sanjay Vijayakumar, chairman, StartUp Village. It is on a mission to incubate 1,000 product startups over 10 years and find a billion-dollar company from a college campus by turn of this decade. "This, in turn, would translate to over 25,000 in employment, over Rs. 100 crore in investments and around Rs. 2,000 crore in revenues," says Vijayakumar.
Though majority of the companies in the Village are pre-revenue startups, some have already started making money. The founders aim to replicate the success of the Village to other parts of the country, which has just 65 incubators compared with 2,000 in the US and 1,000 in China.
In fact, the two startups in the Village -- MindHelix Technologies and Wowmakers – have already bagged a handful of high-profile projects. A mobile app developer, MindHelix has successfully completed a project of Delhi police, deploying its cloud-based technology to provide Delhiites a public portal to locate the nearest police station. Called 'Know Your Police Station', this initiative provides all information related to the police stations in Delhi.
The success of the Delhi Police project has swung a similar project from the Sikkim Police to MindHelix. The startup, in partnership with Microsoft, has also undertaken a healthcare project of the Andhra Pradesh government, which aims to eliminate female foeticide in the state.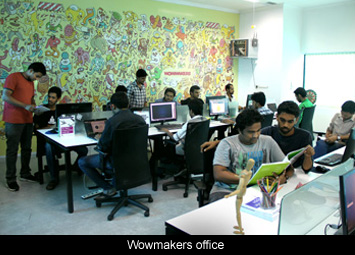 Wowmakers , a design-focussed studio, has also been doing quite well. Impressed by design works it has done on the walls of Startup Village, BlackBerry India approached it to design the logo of its innovation centre – Rubus -- located in the Village. Profoundis Labs, a player in the business analytics space, has not yet been admitted to the incubator, but will see its entry in a month or so. Profoundis, currently working in the co-working space, has developed an analytics-cum-ERP tool for SMEs, which it claims would provide all relevant features the big players in this space offer, but at one-seventh of their price. The company has gained five customers so far, one from as far as Turkey, including a few SMEs in Bangalore and Kerala.
George says the Village is getting applications from abroad too, "A few days ago, I received calls from Bangalore and Mumbai. Another application was from a German, whose e-commerce startup MakeHappy has an , evincing interest in getting virtual incubation at the Village. They also want to be a part of the mentorship programme provided by us."
The Village is also creating a separate angel fund to help startups. "We are in the process of creating this Fund. Its registration with the SEBI has just been completed. KPMG is also helping us with this. More details of the fund will be announced later," George said.
Companies incubated in the Village will get service tax benefits for three years for up to Rs 50 lakh of revenue each year. The Village has a selection committee which comprises a representative from the DST, Technopark and representatives of Startup Village and MobME. The applications are received on an ongoing basis and subsequently an in-person interview is conducted by the CEO. The interviews are also conducted via video conferencing.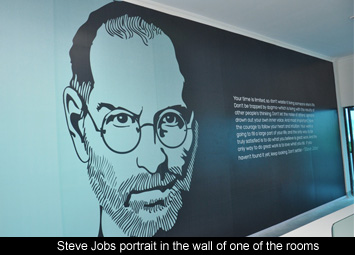 Based on the details provided and the insights from the interviews, the committee evaluates the applications and grants provisional incubation status. Conferring of confirmed incubation status happens six months after the provisional status on the basis of the traction and execution performance of the team. "We are not following the traditional approach to incubation. Instead, we are trying to support the startups from their idea to IPO," says Vijayakumar.
Interestingly, the DST has also allotted one more incubator for NRIs with an intention to woo IT talents working abroad. The NRI incubator will come up in Infopark, Kochi, shortly.
Besides, with a mission to create the next wave of IT product entrepreneurs, top honchos of IT and telecom companies, such as Nokia, BlackBerry and Infosys, have pledged institutional and technological support to foster next generation telecom and Internet start-ups at the Village.
"They will bring in technology infrastructure like Cloud Computing, access to development platforms, direct support to R&D and technical teams, marketing and sales channel support to the Village," says Vijayakumar.
Though Kerala is far behind neighbouring states like Karnataka in terms of generating revenues from the IT sector, it has a history of producing a number of successful startups. More than 135 startups have come up at Technopark, Thiruvananthapuram, which include high-growth IT product ones like Innoz, Dexetra, Waybeo & Foradian.
Kris, the most successful IT entrepreneur from Kerala, is the Chief Mentor of Startup Village. The other mentors include Arun Kumar of KPMG, Abhishek Goyal of UrbanTouch.com and NishantVerman of Canaan Partners. Apart from this, its growing partner network includes KINFRA, NASSCOM, Indian Angel Network, CII, TIE and BlackBerry, to name a few.
(Edited by Prem Udayabhanu)