India's infrastructure output rose in August with all but one of the eight industries comprising the core sector index recording higher production, government data showed on Wednesday.
The index increased 2.6 per cent in August from a year earlier, higher than the 1.1 per cent rise in July. The August number is, however, lower than the six-month high of 4.4 per cent recorded in May.
The core sector industries — coal, natural gas, petroleum refinery, fertiliser, steel, cement, electricity and crude oil – make up nearly 38 per cent of the weight of items included in the Index of Industrial Production (IIP).
The acceleration of growth in the core industries is a reassuring news for the Indian economy. And the Reserve Bank of India's half-percentage point cut in interest rates on Tuesday could provide further momentum to the economy in terms of more investment and higher demand in coming months.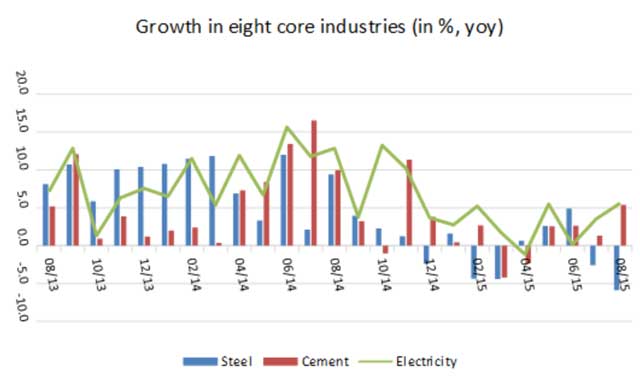 Power generation, which has the highest 10.3 per cent weight in the index, grew to a nine-month high of 5.6 per cent in August from 3.5 per cent in July.
Growth in crude oil also came in strong at a 50-month high of 5.6 per cent while natural gas output rose after a gap of almost five years.
Cement output rose 5.4 per cent in August from 1.3 per cent the month before and coal production increased 0.4 per cent from 0.3 per cent.
Steel was the only sector in negative territory – output fell 5.9 per cent – and recorded the lowest number since January 2009.
The government will release IIP figures for August on October 12.