India's industrial output in August rose at the fastest pace in nearly three years, bolstered by rapid expansion in the capital goods sector, showed official data released on Monday.
The Index of Industrial Production grew 6.4 per cent in August from a year earlier, reflecting growth in eight core industries that constitute 38 per cent of the IIP.
All three major sectors in IIP—mining, manufacturing and electricity—rose in August. While output in electricity and mining grew for a second straight month, manufacturing activity increased 6.9 per cent to a 34-month high.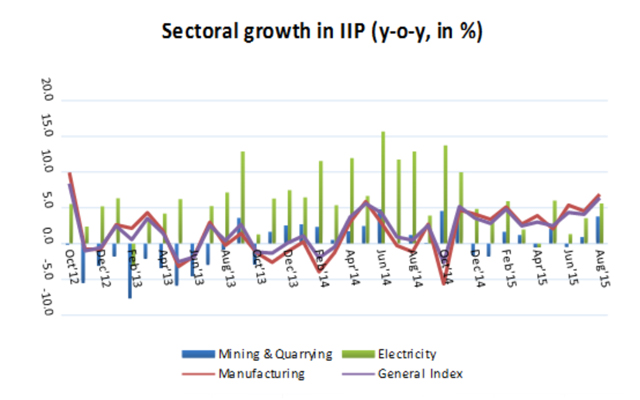 In terms of industries, 15 of the 22 industry groups in the manufacturing sector recorded growth during the month, reflecting a broad-based recovery.
Capital goods output rose 21.8 per cent, indicating an improvement in business activity in the near term.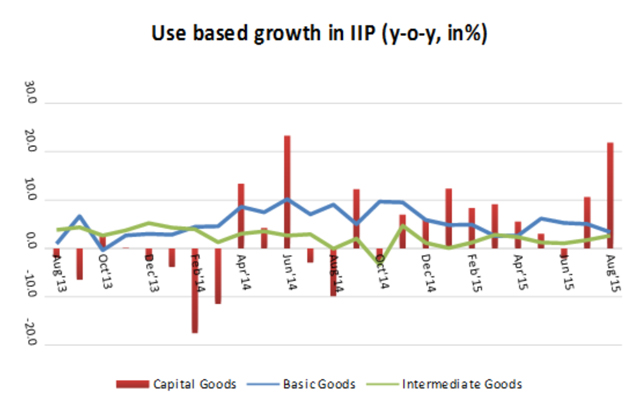 While improved industrial output is expected to provide a sigh of relief for the government, corporate earnings for the second quarter – due to release this month - will present a better picture of the economy.
Meanwhile, a second set of data released on Monday showed that consumer inflation came in a bit higher than market expectations as the favourable base effect waned off.
Consumer price inflation accelerated to 4.41 per cent in September from 3.74 per cent in August, driven mainly by a 30 per cent rise in pulses since last year. Food price inflation for September quickened to 3.88 per from 2.20 per cent in August.
"Despite high pulses inflation, the most noteworthy point in today's inflation number is resilience of food inflation and its ability to withstand adverse weather shock. This points that food supply management of the government is working effectively," said Devendra Kumar Pant, chief economist at ratings firm Ind-Ra.