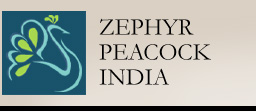 Zephyr Peacock India, a private equity firm that focuses on small and medium enterprises, has made a first close of its Zephyr Peacock India Fund III with $50 million in commitments from institutional investors, a senior official of the company told VCCircle. The fund is targeting $150 million in total commitments and expects to do two more intermediate closes before the final closure.
International Finance Corporation (IFC), the private investment arm of the World Bank, had committed $15 million and acted as an anchor investor to the fund. The fund had also seen commitments from several US-based pension plans and North American family offices.
As part of its investment strategy, the private equity firm will stick to making bets between $5 million and $20 million in asset-light businesses. Some of its investments are Aizant Drug Research Solutions, a provider of drug development solutions in India; Trimax IT Infrastructure and Services Ltd, a company providing end-to-end IT infrastructure solutions to various government agencies and enterprises; Metro Wireless, a network designing and optimisation services firm catering to telecom operators in the country, and Miles Software Solutions, which provides software and solutions to the financial services industry.
Recently, its portfolio firm Trimax raised Rs 100 crore (approx. $20 million) from a fund managed by Aditya Birla Capital Advisors, the private equity arm of Aditya Birla Financial Services Group.
Zephyr Peacock India is part of the global private equity and marketable securities firm Zephyr Management, which has $1.4 billion under management and has funds across emerging markets like Latin America, Africa and Eastern Europe.
Challenging Scenario
The first close of Zephyr Peacock India Fund III comes at a time when the fundraising environment is quite challenging and the Indian private equity is no longer as attractive as it has been. "It's a difficult fundraising environment and India is no more a must-have exposure. In fact, a few LPs have a neutral-to-negative stance when it comes to Indian private equity," said Mukul Gulati, MD & CEO of Zephyr Peacock India, sharing insights from his fresh fundraising experience.
Gulati, however, added that there would be still room for fund managers with differentiated strategies and those targeting smaller-sized funds. "LPs are mostly disappointed with huge growth funds of $300 million and above, raised in the past vintages," he added.
Certainly, LPs are increasingly showing preference for small-size funds or those with a more niche or early-stage investment strategy. For instance, Tano Capital, an Asia-focused alternative asset management firm, recently raised $111.3 million for the final close of Tano India Private Equity Fund II; Banyan Tree Capital Advisors, an SME-focused PE fund, also raised anchor commitments for its second fund and NEA-IndoUS Ventures (NEA-IUV), a Bangalore-based early-stage investment firm, successfully finished its fundraising.