The country's highest-paid independent directors who sit on the boards of companies took home a cushy double-digit fee hike last year as firms shared a part of the profit pie, according to a VCCircle analysis.
The median increase in the fee for the 15 highest-paid independent directors was over 13%. The median is an alternative way to gauge the performance of a set. It factors out the outliers and neutralises the data that may impact the aggregate and, thereby, average mean numbers.
The top three positions were occupied by former bankers. Former HSBC banker Aman Mehta continued to lead the chart, followed by former SBI chief Om Prakash Bhatt and former Citibanker Nanoo Pamnani.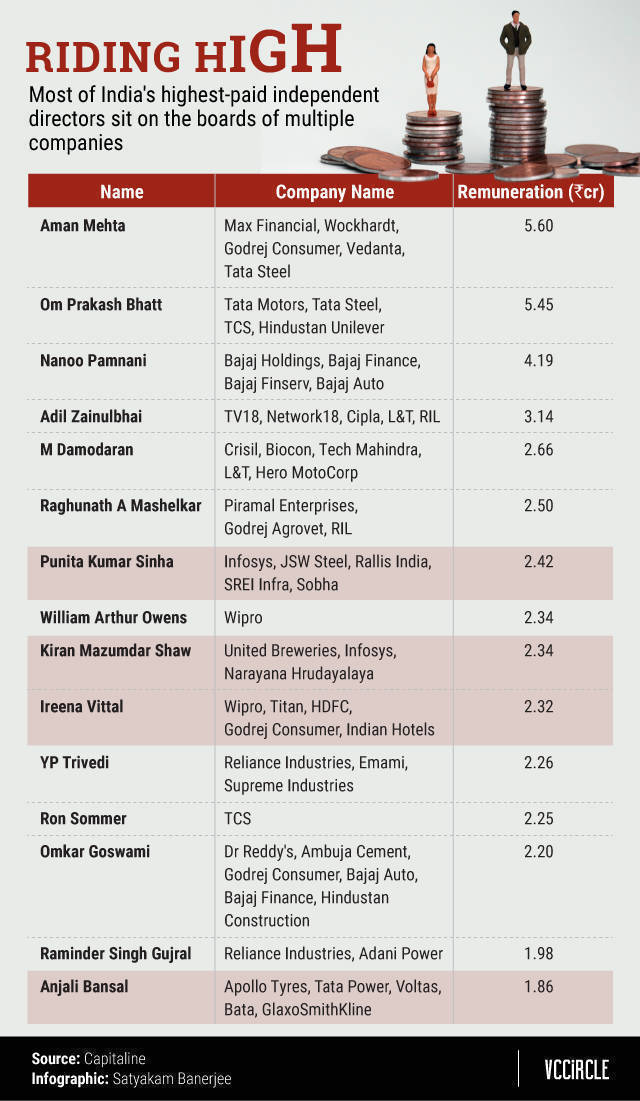 Independent directors' compensation is largely in two parts -- sitting fee for attending board meetings, and commission. The real moolah comes from commission, which is a cut from the profit that the companies make.
Key independent directors of some prominent firms and groups have historically occupied the top slot among the best remunerated outside directors. Last year was no different with top Tata group firms, besides large IT companies and Bajaj, Reliance group entities showering huge sums on their independent directors.
For instance, Mehta received Rs 3.2 crore from TCS itself last year. Mehta, who stepped down from the company's board after completion of a five-year tenure in June, received over 50 times what an average TCS employee received.
Indeed, the chart only covers payments made by public listed companies. The actual remuneration of many of these executives is way higher if one incorporates the payments made by privately held firms. However, that data is not readily available in the public domain.
For instance, Pamnani, who received a big sum from four public listed Bajaj group firms, with a sharp 75% hike in total pay, also sat on the boards of three other group firms that are not listed.
While Mazumdar-Shaw is herself a promoter of Biocon, she figured among the best-paid independent directors by virtue of her board presence in unrelated companies such as United Breweries, Infosys and Narayana Hrudayalaya.
Two expats also figured in the charts -- William Arthur Owens of Wipro and Ron Sommer of Tata Consultancy Services (TCS).
Also, read the piece on highest-paid executive directors in the country here.