Indian film production house Eros that also runs an online movie streaming venture has been hit by a major share sell-off across both its NYSE-listed holding firm Eros International Plc as well as Indian listed arm Eros International Media Ltd.
While its share price at NYSE has more than halved in the last 10 days, its Indian listed unit has seen its share price crumble around 43 per cent since hitting a high in August. The Indian unit's share price had risen 2.5 times over the last one year before skidding over the last few weeks.
The trigger point was a series of posts by an anonymous tweeter who uses the twitter handle @Market_Farce questioning the firm's claimed user numbers and reporting norms. It also alleged that the firm pushes up its revenues from its UAE-based arm during the quarters when its Indian movies do not perform well at the box office.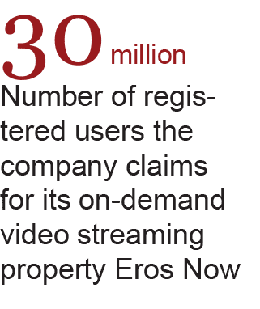 Last week, American bank Wells Fargo in a research note also raised concerns about its accounting revenues and lack of disclosures related to the online streaming property Eros Now, according to news agency Bloomberg.
The company, whose recent successful Hindi films include Salman Khan-starrer Bajrangi Bhaijaan and Tanu Weds Manu Returns, has declined to comment on the allegations made by the anonymous tweeter. It has also refused to disclose details of what pushes up its revenues from UAE entity that it controls.
On Monday it said in a press release that recent volatility seen by its share price has been based on speculative media reports. "Analysts downgrade or upgrade stocks regularly and that is not a cause of concern. Note that Wells Fargo did not revise down its earnings estimate for the quarter or the year," it said. 
The firm had recently claimed that its on-demand video streaming property Eros Now has more than 30 million registered users worldwide as of September 30, 2015. It did not disclose the number of its paid subscribers.
Bloomberg quoted the Wells Fargo analyst as casting doubts on this number too as its app download numbers do not correspond with its ranking by a third party app tracker compared to its peers which do not claim as many users.
Eros Now competes with the likes of Reliance Group's BIGFlix, Times Internet's BoxTV and Spuul, among others.
Eros as a group also competes with 21st Century Fox, the media entertainment firm controlled by Rupert Murdoch that has its own movie production house besides owning TV network Star. Star also runs an over-the-top property HotStar, which also streams movies besides its television shows.
News Corp, another firm controlled by Murdoch, owns the parent of this news website.