The Bharatiya Janata Party (BJP) appears set to get a boost if exit polls for elections to five state assemblies are any indication, in a development that could strengthen Prime Minister Narendra Modi's position and give a fillip to investor sentiment.
What looked like a never-ending set of elections to the state assemblies of Uttar Pradesh, Uttarakhand, Punjab, Goa and Manipur will come to an end by Saturday when the results are announced.
Exit polls results announced on Thursday by TV networks predict the BJP is set to win four of the five states, except Punjab, where the Congress party and the Aam Aadmi Party are likely to vie for power.
Results across other states notwithstanding, the most crucial outcome that investors across the country will watch out for would be that of Uttar Pradesh, India's most populous state, and one that plays a decisive role in India's politics.
So, what do the exit polls predict for Uttar Pradesh?
Exit polls predict that, after a gap of 26 years, the BJP will be in a position to form the government in Uttar Pradesh. Most polls say the party will either get a clear majority in the 403-seat state assembly or will be close to the halfway mark.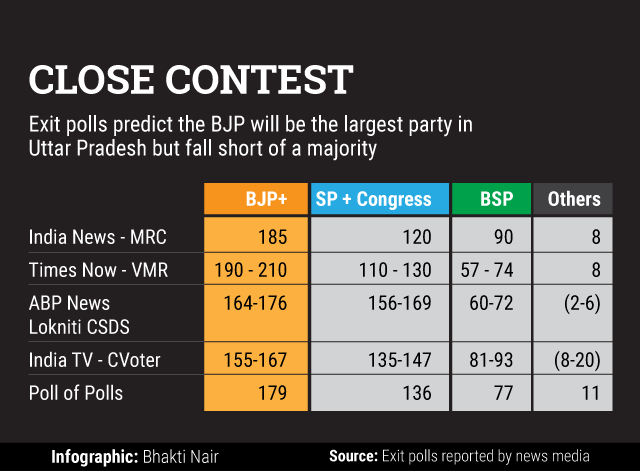 What could such a result mean for the capital markets?
The stock markets have been rallying in the past few weeks. If the results on 11 March do turn out as predicted by exit polls, expect the markets to rise and possibly even breach previous historical levels. If, however, the BJP falls short of the majority mark and is unable to cobble up a coalition, things could be very different and markets could correct.
A positive result for the BJP will indicate that voters have given their stamp of approval to the economic policies of the central government led by Modi. Effectively, it would also mean that Modi's move to demonetise Rs 500 and Rs 1,000 notes in November has not eroded his and his party's political capital as was expected.
Like this report? Sign up for our daily newsletter to get our top reports.