Morning walkers in Bangalore's tony locality of Koramangala were in for some laughter earlier this week when they saw posters titled 'VC for Startups' dotting the neighbourhood.
Sri Hariprasad Ventures, as the fake venture capital firm goes, is "looking for startups with great vanity metrics and excellent knowledge of buzzwords. Preferably fintech, blockchain, or enterprise. Open to other fields but must be disruptive," the poster read.
Clearly a potshot at the excesses of startup culture, including entrepreneurs' tall claims about the business and their mad pursuit of funding, the posters tickled many a funny bone on social media as well.
However, when one looks closely, it is not just a satire on the herd mentality of 'starting up', but also a jibe at investors who loosen their purse strings despite a flimsy proof of concept or bad product-market fit as long as the sector is 'hot'.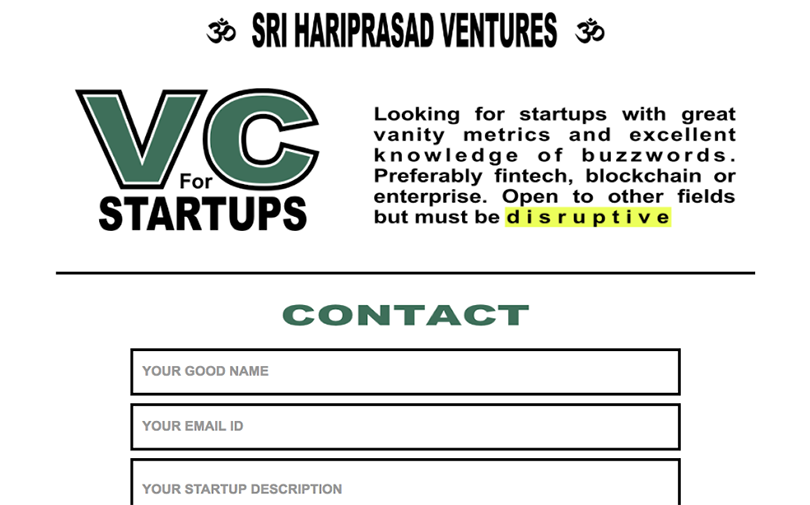 Every few years, a new sector becomes the darling of startups. Last year, for example, fin-tech, machine learning, and deep technology topped the charts. Hyperlocal logistics and food-tech, once the cynosure of investors' eyes, are now grovelling in the dust.
And the stress on 'disruptive' is a masterstroke at blowing the lid off the abused word that has found its way into the industry's lexicon.
The mastermind behind the work of art is not known, but goes by the handle 'Keeda.city' on Instagram. Sri Hariprasad Ventures has also been trending on Reddit by the name of 'Peak Bangalore', with readers coming up with equally funny ideas seeking investment.
One of the business pitches goes like this: "We solve problems of last-mile delivery in fintech domain through the use of blockchain technology applied on top of our custom build predictive intelligence dashboard using cutting edge machine learning stack and deep neural nets."
"We aim to dramatically recaptitualise process-centric niche markets, objectively scale stand-alone schemas, authoritatively disintermediate business customer service, interactively coordinate granular products, progressively enable viral total linkage, objectively seize out-of-the-box efficient aggregate of goal-oriented process improvements, enthusiastically integrate professional relationships, appropriately leverage other's holistic metrics, completely iterate standardized schemas and…" another post read.
Parodies of the startup ecosystem are not new. The Viral Fever, All India Bakchod, Being Indian, Newslaundry, and others have created spoofs and web series on entrepreneurs and investors in the past.
Like this report? Sign up for our daily newsletter to get our top reports.