Credit: Shah Junaid/VCCircle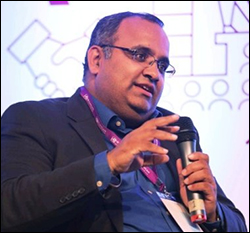 Even as its impending merger with rival firm Flipkart inches closer to completion, e-commerce marketplace Snapdeal has lost another top-level executive with human resources chief Saurabh Nigam deciding to move on.
Nigam joined Snapdeal in April 2014 and resigns as senior vice president and head of human resources. He has worked with procurement intelligence firm Beroe Inc and business conglomerate Aditya Birla Group in the past.
Confirming the development, a Snapdeal spokesperson said, "After spearheading Snapdeal's human capital function for more than three years, Saurabh Nigam has decided to move on to pursue further career interests in a field close to his heart. Saurabh has been an integral and invaluable part of Snapdeal's journey. We thank him for his vision and exemplary leadership and wish him the best for his future endeavors."
Pravin Kutty, associate vice president, human resources and administration, will head Snapdeal's HR faction after Nigam's departure.
The development was first reported by Moneycontrol.
Nigam's three-year stint at Snapdeal was marred by continuous top-level exits and mass layoffs. According to several media reports, the final number of layoffs the company initiated in February this year could run up to 1,500.
Snapdeal's head of corporate development Abhishek Kumar and head of partnerships and strategic initiatives Tony Navin left in February this year. In November last year, Vijay Ghadge, chief operating officer at Snapdeal's in-house logistics arm Vulcan Express Pvt Ltd, had quit barely four months after joining the firm.
Earlier this month, Snapdeal's biggest investor SoftBank wrote off $1.4 billion in valuation on its two biggest investments in India—Snapdeal and cab-hailing app Ola.