IDFC Private Equity has scoured within to find its new chief. Satish Mandhana,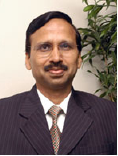 a Managing Director, has been elevated as the head of one of the country's largest alternative asset management firms. He will be designated as Managing Partner, which is a newly created post.
Mandhana takes over from the outgoing chief executive Luis Miranda who will now move into the role of non-executive Chairman of IDFC Private Equity. He will serve in this role till December 2011. The other two managing directors at IDFC PE are SG Shyam Sundar and Raja Parthasarthy.
When contacted, an IDFC spokesperson confirmed the development.
Today is Miranda's last day as the president & CEO of IDFC Private Equity, the company he founded in 2002 under the aegis of Infrastructure Development Finance Company (IDFC). Miranda, one of the most prolific investment professionals in India, pioneered the concept of PE investing in infrastructure. Under his helm, the fund has invested in more than 27 companies and has made 13 exits raking in multiples ranging from 1.9x to 7x from various liquidity events.
Some of his notable investments include GMR Infrastructure, Gujarat State Petronet,
Gujarat Pipavav Port, Delhi International Airport, International Recreations Parks, L&T Infrastructure Development, HealthCare Global, Ashoka Buildcon, Manipal Universal Learning and Goodearth Maritime.
Starting up is not something new to Miranda who was, in his previous stints, one of the founding members of ChrysCapital and also been a key member of the start-up team at HDFC Bank, India's leading private sector bank. He has also worked at HSBC Markets, Citibank, KPMG and PriceWaterhouse. He received an MBA from the University of Chicago and an MCom from the University of Mumbai.
Taking over reins from him is Mandhana with 28 years of private equity and corporate finance/business strategy experience. During his previous stint as director of CDC Advisors (now Actis), he was involved in privatization of Punjab Tractor and investing initial capital in IDFC. He was also CFO and Head of Business Strategy at JK Paper for nearly three years where he raised $177 million including private equity and was involved with company's carbon sequestration
initiative.
Passionate about promoting green infrastructure, Mandhana received an MBA from the Faculty of Management Studies, Delhi University, and holds a BE degree in Industrial Engineering from the Indian Institute of Technology (IIT), Roorkee.
IDFC PE, 100% subsidiary of Infrastructure Development Finance Company Ltd, handles three funds-India Development Fund ($192 million), IDFC PE Fund II ($440 million) and IDFC PE Fund III ($700 million).