It's a tiny shop with no fancy lights or glass panels. Iron shelves lined against the walls hold cartons, bottles and plastic canisters. In a corner, sits a man with a long register, the wooden table in front of him laden with small packages. The cash goes into the little drawer under the desk.
You may feel you have stepped back into the eighties but that's the ideal Patanjali Chikitsalay store. Tucked away in a corner of a busy marketplace or in the bylanes of a residential colony, such stores are the lifeline of Baba Ramdev's brainchild, Patanjali Ayurved Ltd.
These stores, spread across the country, numbering nearly 10,000 accounted for the bulk of Patanjali's Rs 2000 crore turnover in FY15.
"They were the best medium when it came to spreading awareness about our products through word-of-mouth," says Acharya Balkrishna, managing director, Patanjali Ayurved.
Run by franchisees, the Patanjali stores can be classified into three formats. Typically 100-150 sq feet in size, the first two sell processed foods and ayurvedic medicines, respectively. The third format, a tad big at 200-250 sq feet, sells medicines, pulses, rice, detergents, hair care and skin care products.
These stores weren't exactly the first choice for Patanjali.
Around 2010, when it started its big push into consumer goods, Patanjali found retail outlets unwilling to keep its products because of the low margin it gave to retailers.
Unlike other FMCG companies, which apart from giving a standard discount to retailers allow further discounting to be able to sell their products, Patanjali could not afford to sell at discounted rates, nor give any special discount to retailers. It also did not give goods on credit.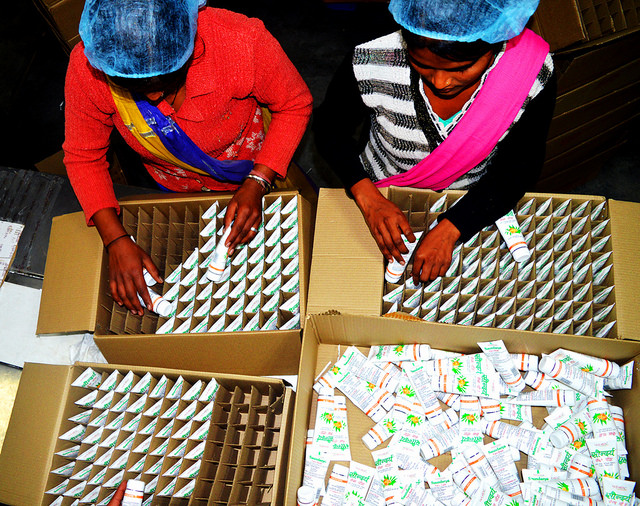 "Moreover, we want our products to be placed at the front aisle, so that people get to see them," says Balkrishna.
While large FMCG companies including Hindustan Unilever Ltd (HUL), ITC Ltd and others pay 19-20 per cent margin to modern retailers and 12-15 per cent to mom-and-pop/kirana shops, Patanjali pays 12.5 per cent margin to modern retailers and 8-9 per cent margin to kirana shops.
It was the same story when Patanjali tried to place its products in modern retail stores.
Aditya Pittie, CEO, Pittie Group, Patanjali's sole distributor for modern retail and e-commerce, says a pilot programme it ran for the firm's oral care brand Dant Kanti, helped the homegrown company crack modern retail.
Though Patanjali paid 10 per cent margin against a rival brand's 20 per cent, the modern retailer was able to sell Rs 3 lakh worth of Dant Kanti toothpastes against Rs 1 lakh worth of toothpastes of the latter, says Pittie. That clinched the deal and Patanjali got a foothold in modern retail.
"With retailers realising that despite getting lower margin they get to earn more on Patanjali products, they are eager to give shelves to the company," adds Pittie.
It was only last October that Future Group opened the doors of Big Bazaar for Patanjali. Before this, in January the company piloted its products in five Reliance Retail stores in Mumbai, following which Patanjali took its products to 45 stores in the city.
Balkrishna points out that its decision to go for its own stores played a big role in establishing its credentials. "The no-frills store with the store owner actually advising customers on products built a level of trust and popularity which helped in our modern retail foray," he says.
"The no-frills stores built a level of trust which helped in our modern retail foray," says Acharya Balkrishna, MD, Patanjali Ayurved
Today, Patanjali products are available across key Future Group retail chains- Big Bazaar, KB's Fairprice, Aadhaar and Nilgiri's. Patanjali claims it has recently increased the margin for modern retailers to 16 per cent, though it declined to reveal the share of sales contributed by modern retail versus kirana shops and its own stores.
Kishore Biyani, founder and chief executive, Future Group says he is satisfied with the margin offered by Patanjali. "Margin is a combination of various factors such as sourcing of goods, supply chain, etc. Moreover, the aim was to allow a homegrown company, a 'swadeshi brand' to flourish," says Biyani.
500-3000 sq ft in size and will house all products under one big roof. It plans to have 100-150 such stores by end of this year. "Two such stores have been launched in Lucknow and Nagpur. Delhi, Mumbai and Pune are next on our list," says Balkrishna.
Pittie, too, is joining hands with Patanjali to start four mega-stores. Two will be in Mumbai, and one each in Delhi and Bangalore. "Baba Ramdev himself is screening all the applications received," says Pittie.
The opportunities in e-commerce haven't escaped the notice of Patanjali. According to a person close to the company, Baba Ramdev, along with top executives from Patanjali, is busy devising an e-commerce plan.
At present, Patanjali sells its products on patanjaliayurved.net. Moreover, its products are sold by vendors on online marketplaces such as Flipkart, Amazon, Snapdeal and Grofers besides inventory-based grocery e-tailer Big Basket. It has also tied up with Pluss, an on-demand medicine and healthcare products delivery service to deliver its products in Delhi.
"One of the reasons as to why we haven't been able to make a mark online is that we are not able to give very high margin to e-commerce companies," says Balkrishna.
According to industry estimates, an e-commerce company's target is to earn a margin of 15-20 per cent on each transaction. However, with almost everyone offering steep discounts, the actual margin earned is 8-10 per cent and at times, even as less as five per cent.
To be sure, grocery e-commerce is not all about margins. "Grocery e-commerce is more of a local play than national. While one can still parcel a large packet, grocery is all about fulfilling daily needs for which a relevant local network is essential," says Rajat Wahi, partner and head, consumer markets, KPMG in India, an audit firm.
For Balkrishna, the first step towards making Patanjali a national brand has been taken. "With more and more people joining the swadeshi movement, it's just a matter of time before almost all the small as well as large stores sell our products," he says.
(This is the second article of a three-part series on Patanjali Ayurved. To read the first part on how this niche ayurvedic medicine maker became one of India's fastest growing consumer goods company, click here. To read the third part on Patanjali's pricing and marketing strategy, click here.)