The 2016 Rio Olympic Games are set to kick off and it can be said with a reasonable degree of surety that the US and China might again end up with the biggest medal hauls this time. 
We are not in the business of predicting the future, but if a simple (though inexact) analysis of historical data on medal wins is considered with the gross domestic product (GDP) growth figures of the major sporting countries, the two countries will top the medals tally by a considerable distance.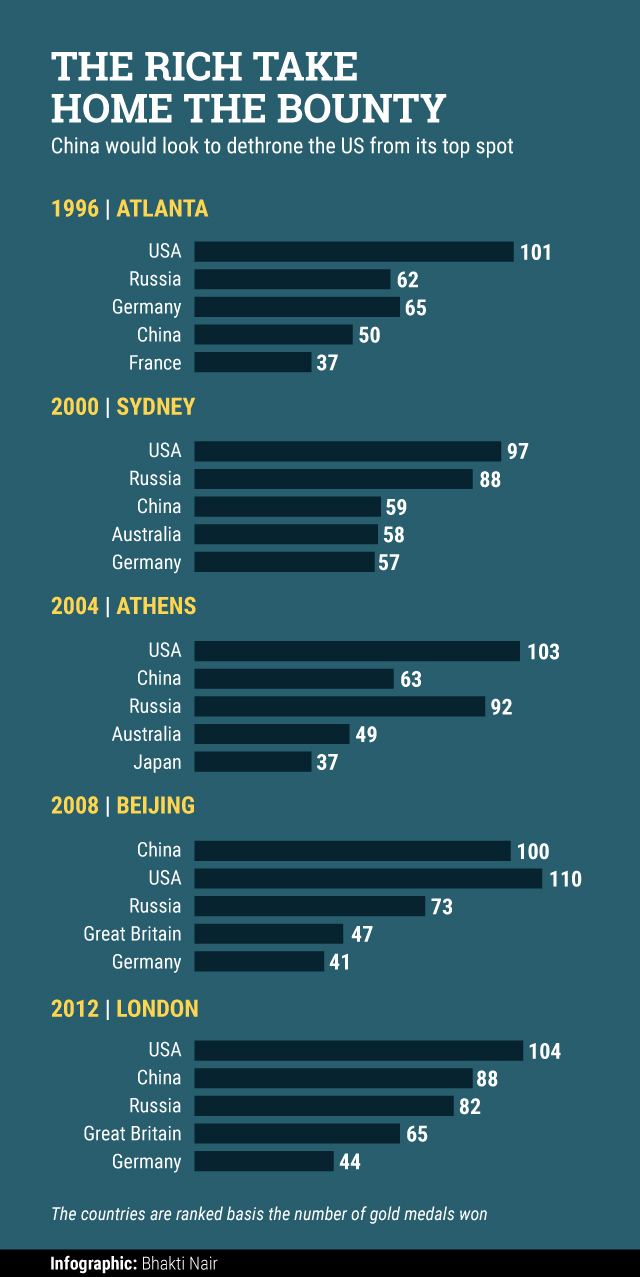 The US has topped four of the five Olympics since the 1996 games in Atlanta; the only exception being Beijing in 2008 when host China trumped them. While home advantage and the fact that the hosts had the largest contingent of 639 athletes at the 2008 games were indeed reasons that propelled them to the top, the real answer to China's growing success at the games could perhaps lie in their stupendous economic growth in the past three decades. 
World Bank data show that, between 1989 and 2004, China's GDP (at current prices) grew five-fold, and the country is now the second-largest economy. In fact, since the 2000 Sydney games, China has consistently featured in the top three medal winners.  
The other interesting trend evident from the comparative data is the relative relegation of Russia vis-a-vis the US and China. Although in the post-Soviet era, the Russians have continued to be a major sporting force, the Chinese have consistently beaten them to the podium.  
This time, however, circumstances are skewed against the Russians as a third of their contingent has been disqualified after failing dope tests. This could mean that some other countries including Great Britain, Germany, Japan, Australia and France could have a realistic shot at achieving the third spot in the overall medals tally.
Like this report? Sign up for our daily newsletter to get our top reports.