Private equity investors in India haven't been able to reap their investments as actively as they would have liked so far this year even though equity markets are trading near one-year highs.
A total of 153 PE exit deals were struck in the January-August period this year, hitting a five-year low, according to News Corp VCCEdge, the data research platform of VCCircle. The total value of exit deals is also the lowest in five years, although this is not comparable as the value of some deals is not disclosed.
"The primary market is just warming up after it was jolted in February and March, which had hit private equity exits," said Amit Varma, managing partner at healthcare-focused fund Quadria Capital. "The other reason why exits did not come through is the mismatch in valuations."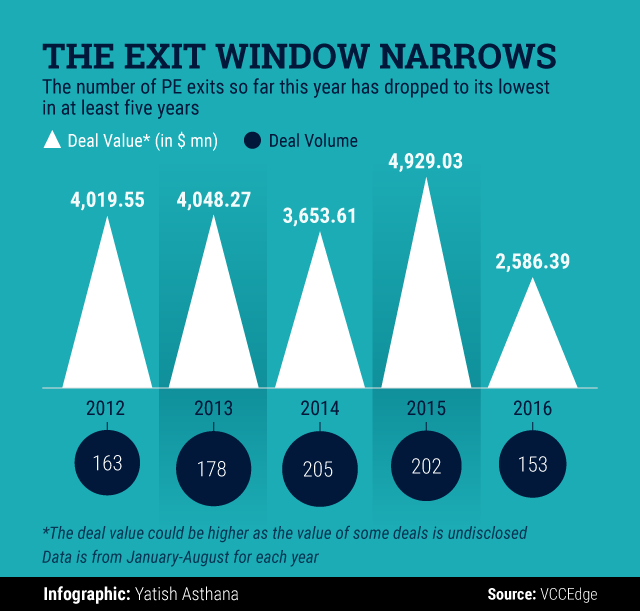 However, Varma said a lot of deal-related talks are happening in the market and he expects to see more IPOs in coming months.
Harish HV, partner at Grant Thornton, said the IPO market is reasonably buoyant now. "In the last seven-eight months we have seen a number of exits for private equity firms through IPOs. This was a route which was pretty much closed over the last four-five years. So I am not really concerned about the fall in exits at this point in time," added Harish.
The BSE Sensex had hit its lowest this year at 22,494.61 in February but has now picked up and hit a high of 29,077.28 early this month. It had hit a life-time high of 30,024.74 in March last year.
Merger and acquisition transactions was the most favoured exit route for PE investors with 68 such deals during the first eight months of the year. This was followed by open market transactions with 52 deals. The number of public offerings and buybacks was small.
The biggest private equity exit was by Temasek Holdings, the Singapore government's investment unit, at $657 million after Singapore Telecommunications Ltd bought its remaining stake in telecom operator Bharti Airtel.
Like this report? Sign up for our daily newsletter to get our top reports.