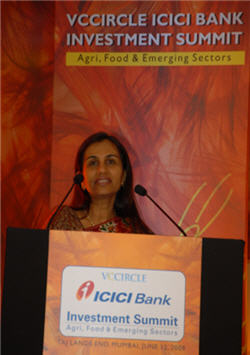 VCCircle and ICICI Bank, India's largest private sector bank, organised the first of  its kind  Investment Summit for Agri, Food & Emerging sectors at Taj Lands End in Mumbai on Friday, June 12.  It received an overwhelming response with about 400 delegates, which included leading private equity fund managers, venture capitalists, companies, entrepreneurs, bankers, advisors and management consultants, attending the summit.
VCCircle and ICICI Bank's Rural, Micro banking & Agri Business Group created this platform to further the cause of Private Equity funding in agri-businesses.
ICICI Bank's Managing Director & CEO Chanda Kochhar, speaking at the event said, "There are great opportunities in Indian agribusinesses and financial inclusion. The rapid growth of agriculture is essential not only for self-reliance but also for meeting the food and nutritional security of the people, to bring about equitable distribution of income and wealth in rural areas, to reduce poverty and improve the quality of life.
Indian agribusinesses have the talent, the skills and the resources to be in the forefront of growth. This Investment summit will provide an opportunity for all of us to get together in exploring ways of accelerating the growth of Indian agribusinesses and financial inclusion, specially in the context of providing growth capital."
The day long summit witnessed discussions and analysis on the latest informationand trends in the agri and food space, along with interactive panel discussions and Q&A led by top notch panelists and a high quality audience. Vijay Chandok (Senior General Manager, ICICI Bank) and  Kumar Ashish (General Manager, ICICI Bank) were also present at the occasion and chaired different panels.
The different panels included discussions upon topics like Food & Agri Business: Opportunities & challenges for private equity, Opportunities in Specialized sectors, Opportunities in Front-end & Rural Business and Opportunities of Private Capital in Microfinance & Financial Inclusion.
The keynote speech of Mrs. Chanda Kochar at the summit: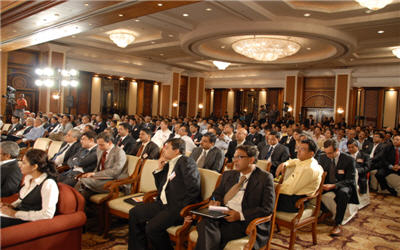 I am extremely pleased to have been invited here today to be with you, and deliver the keynote address at the 'Investment Summit' exclusively focused on Agri Food & Emerging sectors.
I am happy to observe that the ICICI Bank's Rural Agri & Microbanking Division in partnership with VCCircle has created a first of its kind, benchmark platform to further the cause of Private Equity funding in agribusinesses. I believe that over the years, the Investment Summit would evolve as an important platform for discussing the opportunities and challenges pertinent to the flow of alternate capital in agri and allied sectors.
The theme for this Conference, and the themes of the Panel Discussions - follow in that tradition. I am also happy to share with you that ICICI Bank has an exclusive Agri Business Banking team focused on Agri and rural sectors at large since rural banking is a focus area for the Bank.
The importance of the agricultural sector in India is evident to us all. Though the contribution of agriculture in India has decreased to around one-fifth of the total GDP, its importance in the country's economic, social, and political fabric goes well beyond these indicators. Agriculture still provides sustenance to a large part of our population and it is imperative that we continue to invest in developing this sector.
The agricultural sector contributes about 18 per cent to India's Gross Domestic Product, 11 per cent of total exports and provides employment to around 56.0 per cent of the work force. The rapid growth of agriculture is essential not only for self-reliance but also for meeting the food and nutritional security of the people, to bring about equitable distribution of income and wealth in rural areas, and to reduce poverty and improve the quality of life.
The opportunities within this sector are immense and as yet untapped. The private sector therefore has a definite role to play and to gain from the development of the rural economy. To illustrate this point I would like to put a few indicators in perspective. According to the India Food Report 2008, the Indian food industry has been estimated at over US$ 182 bn, accounting for about two-thirds of the country's total retail sector. The growth rate of India's food processing sector stands at 14%.
This growth rate is despite the fact that a third of the agri-produce goes waste in India. The Food and Agribusiness chain comprises agricultural inputs, production, warehousing, logistics, trading, packaging, processing and food retail and services.
The total size of the food and agribusiness market in India is currently estimated at US$ 280 billion, contributing approximately 25% of India's GDP. Moreover, the size of this market is expected to increase in ten years to more than US$ 500 billion. The sheer scale of the sector and its growth potential should encourage investor participation across the entire value chain in the agrarian economy.
India offers a few unique advantages like :
• Demographic dividend – India's population is quite young and nearly 17 % of the global population. India has observed an upward mobility in the income classes and rising disposable income. The increase in income level and gradual shift of poor to middle class offers great growth opportunities for companies across various segments.
• Changing lifestyle and increasing consumer awareness: over the years, increasing literacy and exposure has brought about a change in the mindset and preferences of urban Indians. Lack of time due to a busy lifestyle and changing consumption pattern has led to the demand for processed, ready to cook and ready to eat food.
• Rural Market Potential: Rural Market Potential is immense
Indian agribusinesses have an inherent production advantage unique to India. India has the second largest amount of arable land (161 millio hectare) in the world (after the USA), and is blessed with diverse agro-climatic zones across the country. India is already among the top three producers in the world in cereals, pulses, milk, sugar, fruits & vegetables and tea. With scale coming from the strong growth expected in India, improved infrastructure and even a gradual change in global food subsidy regimes, India can play a bigger role in world food trade.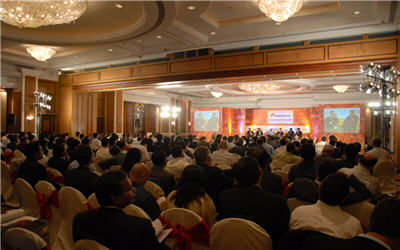 Companies such as Schreiber, Orkla Foods, Tyson Foods, Barry Callebaut and Hershey's are already in the process of setting up facilities in India, to serve both India as well as other global markets. Therefore, if we look at the emerging trends in India we can clearly see a bright future for Indian agribusinesses. India, with significant advantages in production, huge potential in food processing and domestic demand pattern, could become a regional if not a global hub for the production of processed foods.
Given these factors and the importance of agriculture in India's economy, there is considerable policy support to this sector. India's agricultural sector, especially with regard to food processing and allied activities is going through a major transformation driven by an improving policy environment, increasing public-private participation and an increasing thrust on improving rural infrastructure.
The policy environment seems to be improving and investment in agriculture to be strengthening, as evidenced by higher market prices and input subsidies for farmers.While in the past few decades Indian agribusiness has made a lot of progress, a lot still needs to be done.
A cursory look at the agricultural production statistics of India tells us that though India is a one of the leading producers of agricultural and livestock commodities, the share of such products going for processing is very small. Also, India's share in world trade of processed food is merely about 2%. Our rice yields are one-third of China's and about half of those in Vietnam and Indonesia. India's wheat and soybean yields are half of that in US.
If we take the case of food processing sector alone what we see is that the key issues low level of processing, consumer perception regarding processed food and the unorganized nature of the processing sector. In the global context we know that in many products India is competitive at the farm level.
However, even in these sectors, the cost build up in the long and often inefficient chain from the farm to the port makes India uncompetitive. Domestic support and export provided by several leading food producing countries, as well as non-tariff barriers have also negatively impacted Indian exports. The sector therefore needs large and sustained investments for achieving the scale and size to effectively support India's long-term growth story.
I believe that a lot of development in the sector is possible provided that adequate capital is made available in its development. According to industry estimates, rural credit penetration in India is just 15 per cent of the all-India average of 40%.
Lack of economies of scale and uncertainty in raw-material availability has resulted in higher inventory holdings and low capacity utilisation. Due to the unorganised industry structure, most of the units in the food processing industry are standalone without significant backward or forward linkages.
When we talk about the size of the food processing sector expected to increase in ten years to more than US$500bn, the investment required to achieve this scale is estimated at US$ 30-35bn, out of which between 40%-50% will be serviced through equity from entrepreneurs, corporations and funds. Hence capital is quite critical to fund this phase of growth of the agribusinesses.
I believe that there are multiple avenues of investment in the food processing sector. For example, green house farming and controlled atmosphere cultivation for off season fruits and vegetables as well as production of market demand produces remains an extremely nascent setup today.
The activity is specifically market driven or export oriented and therefore promises to be a profitable venture for investors. Similarly, bio-technology, embryo transfer, artificial seed production, micro propagations and horticulture nurseries at locations where demand exists are activities with potentially good returns. In terms of support infrastructure, scientific storage and transport facilities including rural godowns, cold storages, pre-cooling centres will need to be developed for a growing processed food industry.
Food Processing Units catering to export markets or high demand areas in the domestic market is another opportunity for investment in value chain of the food processing industry. Similarly the concept of agriculture retail chains needs to be explored and developed further given the demand for high quality food products that we are seeing in recent times. Although the warehousing sector is also seeing rapid changes, third-party warehousing in India comprises only 30 per cent of total private warehousing, compared to the international benchmark of 70%.
One shining example of improved efficiency in the food processing space through focused investments and development is the dairy sector. India ranks first in the world in terms of milk production which stands at 100 million tonnes in the year 2006-07.
This is primarily due to the initiatives taken by the Operation flood programmes in organizing milk producers into cooperatives; building infrastructure for milk procurement, processing, marketing and providing financial, technical and management inputs by the Ministry of Agriculture and Ministry of Food Processing Industries.
Despite the success of the dairy sector, a majority of the processing units in the Indian agri space are in the unorganized sector. I believe that private investment within this space will help alleviate this to a significant extent. Today, even in the organised sectors the low hit rate of deals reaching completion is a fair indication of the challenges faced by PE funds in closing deals.
PE funds reject the deals outrightly if they do not meet the criterion laid in terms of size, management or financial and regulatory reporting. Secondly, some enterprises may suffer from poor corporate governance standards, and thirdly, in line with the market view, valuations may be over-stretched, which may make investment unlikely.
A closer look at the dynamics of these deals tells us that the ability to get along for a long term is seen as the second most important factor after valuation. Owners of most of Indian enterprises run their businesses on their own and are quite sensitive to any external involvement.
This came out as one of the most important findings from a survey of PE Houses and the CEOs of Indian Enterprises. The survey found that 83 percent of PE houses asked for a Board seat as part of their deal terms. The third most important factor which emerged out of the survey was the Funds market reputation as an investor in terms of their past relationships and their ability to take the invested enterprise to new heights.
However I would like to say that there are significant benefits to be enjoyed through private capital in this space. By placing an experienced person in the board of the company, a PE firm would provide professional experience and networking expertise which is generally of great help to the enterprise. Companies that are backed by private equity firms are often more efficient and generate higher profits due to greater access to capital and its efficient allocation.
On the other hand, investors face more uncertainties in agribusinesses than other sectors which are relatively more stable like infrastructure. While every deal is unique, investors consider some of the issues very seriously while investing in agri and food sector like corporate governance, corporate structuring, business culture, exits and taxes.
Corporate governance is one of the biggest issues in case of agribusiness and food sector. In addition this sector is politically sensitive, regulated and closely watched by government agencies. Hence, investors would need comfort on areas relating to restriction on capital investments and profit earned, regulatory approvals required for the transfer of shares, tax rates and intellectual property rights.
Having said that, I would like to reiterate that opportunities in this sector are immense. Recognising an opportunity to grow, multinational food companies have entered this industry to meet consumer demand for convenience and value-added products. US brands such as McDonald's, Pizza Hut and Kentucky Fried Chicken, or KFC, have already become household names in India I would like to point out some examples where PE investments in agri enterprises have been immensely beneficial for the company.
KS Oils has been a wonderful example of such benefits. The company has seen total investments of US$67.4mn. Today, it is not only one of the leading integrated agri-enterprise of South Asia but has also initiated acquisition of palm oil plantations.
Agriculture in India is not clustered but is highly fragmented. It can be clustered only if there is market-driven farming. This is easier said than done because business models would be different, entrepreneurs would be different and the nature and scale of enterprises to be addressed would also be considerably different than those in developed markets. Active investments in knowledge sharing in shaping up these business models would be critical for an investor in this domain.
The revival of the agriculture sector is expected to open up a spectrum of opportunities for players having strong linkages in the agri value chain. The processed food industry is expected to be one of the biggest beneficiaries of this entire process. In the last couple of years there have been significant improvements on almost all the fronts in this space. Already private participation is increasing across the various segments of the agri-value chain.
"At the same time, the landscape of rural finance is also changing. The Rangarajan Committee Report on Financial Inclusion notes that 51% of 89.0 million farmer households in India lack access to credit, either from institutional or non-institutional sources. In the past 5 years, though, a new breed of financial institutions has arisen to serve the needs of this segment. Microfinance institutions – traditionally nonprofits with a primarily social objective – have transformed into large, well-regulated entities, with professional management.
A quick view of the industry highlights the investment opportunities latent in the sector. In just the last two years – i.e., from March 31, 2007 to March 31, 2009 – the outstanding portfolio of MFIs grew from about Rs.35.00 billion to about Rs.125.00 billion. Today, the sector reaches 25.0 million clients. At the same time, the traditional concentration of MFIs in the south is slowly changing, with large MFIs moving to new geographies. Some of the top entities now have over a thousand branches across the country, and operate in 15 to 20 states.
It is no surprise, then, that there is significant interest from private equity investors in the sector. Indeed, the first wave of early stage and private equity funding has already occurred with over Rs.11.00 billion raised in the past two years. And yet, there is – and will continue to be – a sizeable appetite for capital in the sector over the medium-term. The market potential and the pace of growth, combined with the MFIs' inability to raise deposits, will support a continued demand for capital.
But the surge in interest and investments raises several issues in this rapidly growing sector. How do investors correctly value microfinance institutions? What exit strategies are appropriate? How do promoters and investors balance their roles in the new partnerships they forge? These are just some of the questions facing investors and MFIs today.
To conclude, I have no doubt that there are great opportunities in Indian agribusinesses. However, what I have mentioned is merely the tip of the iceberg. The fact is that private equity placements in agribusinesses is key to the growth of small and medium agri enterprises, their productivity, employment and overall growth of the economy. Indian agribusinesses have the talent, the skills and the resources to be in the forefront growth. Let us all join together in exploring ways of accelerating the growth of Indian agribusinesses, specially in the context of providing growth capital.