The top executives of India's best-funded new-age technology ventures secured a median hike of around 27% in gross remuneration for the financial year 2017-18, according to a VCCircle study based on the latest available regulatory filings.
This is nearly triple the average pay hike in the country, which stood at 9-10% in 2017-18 going by figures put out by various HR consultancies.
The study covered 50 top-funded startups and more than 80 executives, including founders, chairmen, chief executive officers and chief financial officers of these companies, all of whom command hefty cheques year-on-year.
There are some notable omissions on this list. Kunal Bahl and Rohit Bansal, the founders of Snapdeal, have voluntarily chosen not to draw a salary for the past couple of years as the e-commerce unicorn has set about staging a turnaround after wilting in the face of competition of Flipkart and Amazon.
In addition, executives of prominent new-age technology ventures such as Naukri.com parent Info Edge, Justdial and Matrimony.com have not been taken into consideration as the study has mainly focused on firms younger than 20 years
Topping the list are travel portal Yatra's co-founders Dhruv Shringi and Alok Vaish. Yatra chief executive Shringi was paid Rs 28.5 crore in 2017-18, including perquisites of nearly Rs 25.5 crore. His compensation was seven times higher than what he took home in the previous fiscal. However, the cash component of his salary decreased from Rs 3.9 crore to Rs 2.9 crore.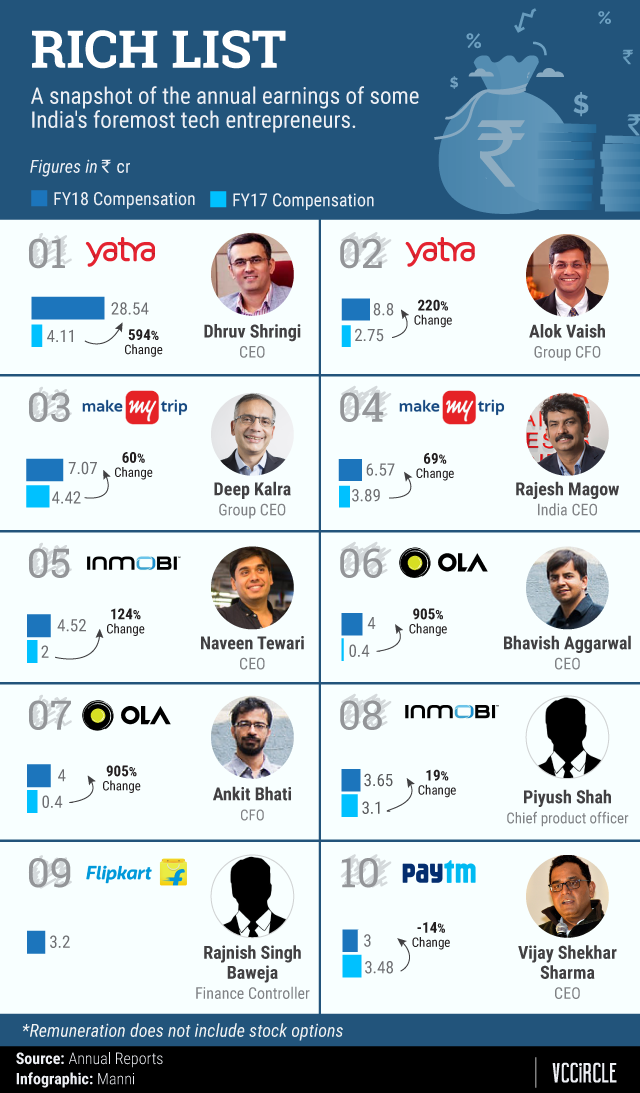 Shringi's colleague Alok Vaish was a distant second with a compensation of Rs 8.8 crore, although he did triple his earnings from the previous fiscal. 
Nasdaq-listed Yatra is currently the subject of takeover interest from US-headquartered Ebix Inc, which made an offer of $336 million and was conducting due diligence when last checked.
Two senior executives of Yatra's biggest rival MakeMyTrip, which is also listed on the Nasdaq, took third and fourth spot. Chief executive Deep Kalra and India CEO Rajesh Magow were given hikes of 60% and 69% respectively for 2017-18.
The duo had the highest cash component of the top 10 executives on our list.
In terms of salary jump, Ola executives Bhavish Aggarwal and Ankit Bhati were the table-toppers -- albeit from a low base. The CEO and the CFO of the homegrown ride-hailing major drew Rs 4 crore each in 2017-18. They each received Rs 40 lakh in the year before that. Ola's valuation stood at an estimated $5.7 billion in its most recent funding round which took place earlier this year.
For the top 10 salaried executives, the median rise in income in 2017-18 was close to 100% as against a median increase of just over 50% in 2016-17. 
Ad-tech unicorn InMobi's co-founder and CEO Naveen Tewari and chief product officer Piyush Shah also made it to the top 10.
Vijay Shekhar Sharma, the chairman of digital payments giant Paytm, was the only member of the top 10 who took a pay cut. He received Rs 3 crore in total compensation, including perquisites close to Rs. 25.5 lakh. In the previous year, Sharma's cash compensation alone was equal to this amount. 
Just above Sharma was e-commerce giant Flipkart's chief finance controller Rajnish Singh Baweja, who received Rs. 3.2 crore in remuneration for 2017-18. 
That said, Flipkart on the whole would have several executives and employees who earn more than Rs 1 crore including CEO Kalyan Krishnamurthy, but their remuneration is not disclosed by their Indian entities.