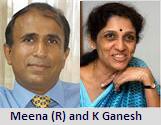 VCCircle is bringing together a compelling case study-like session on the 'The Making of TutorVista' at its upcoming investment summit on education. One of education sector's keenly watched enterprises, TutorVista Global, which started out as an online tutoring company patching Indian teachers with students in the US through a technology interface, today straddles four segments covering digital learning content, brick-n-mortar tutorial centres and formal schools.
TutorVista is founded by K Ganesh, a seasoned entrepreneur with a strong history of starting green field ventures and helping them develop into robust and successful entities.
Ganesh and Meena Ganesh, the husband-wife duo who graduated from the Indian Institute of Management Calcutta, will, in an engaging Fireside Chat format, talk on how they built TutorVista from scratch.
Is TutorVista an education or a consumer internet enterprise? How to scale an education business? How to successfully raise capital and manage investors? Find all these answers and much more from them during the session, to be moderated by Praveen Chakravarty, co-founder, Mumbai Angels and Speakwell Board chairman.
In his previous entrepreneurial avatar, Ganesh and Meena Ganesh founded CustomerAsset, India's top BPO company, which the duo built from zero to 4,000 staff strength. CustomerAsset was sold to ICICI later and it subsequently became ICICI FirstSource. Ganesh began his career as Founder & CEO of IT&T Limited where he took the company public in 2000. After eight years at IT&T, he then went on to become the CEO of Wipro British Telecom/Bharti British Telecom where he turned around a drowning company on the brink of bankruptcy into a cash break-even company.
Prior to her current role at Manipal K-12, Meena Ganesh was the CEO of Tesco's operations in India, the Tesco Hindustan Service Center, which is the core IT and back office support organization for the entire global operations of the business.
While Ganesh oversees all aspects of the company's business operations, Meena Ganesh is spearheading the group's formal education foray in a joint venture with the Manipal Group called Manipal K-12 Education. The solutions offered by Manipal K-12 Education include ICT based solutions to enhance the teaching learning process in the domestic education sector in India. These solutions come from the 10-year-old group company Edurite Technologies. Under her leadership, Manipal K-12 Education has entered into the space of school management and supplementary education.
Know more about the exciting TutorVista journey and other exciting panels at the VCCircle Education Investment Summit 2010 in New Delhi on November 24, 2010.
- .
- .