The Reserve Bank of India has kept interest rates unchanged as expected in its monetary policy review while sharing its outlook on both the Indian and global economy. 
Here are the key takeaways from the central bank's latest monetary policy. 
Shah Junaid/VCCircle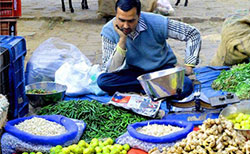 INFLATION: Driven by food prices, retail inflation reached a 22-month high in June, even as fuel inflation has come down. Inflation based on the consumer price index (CPI) remains perilously close to the 6% target. However inflation across some sub-groups has remained subdued. In fact, excluding petrol and diesel from transport, inflation fell below 5% for the first time since the introduction of the combined CPI.  
"Softer inflation readings were recorded across services constituents in health, education, personal care and effects, and other categories of household consumption," the central bank said. "The prospects for inflation excluding food and fuel are more uncertain; if the current softness in crude prices proves to be transient and as the output gap continues to close, inflation excluding food and fuel may likely trend upwards and counterbalance the benefit of the expected easing of food inflation," it added.
What it means: Overall, inflation remains a worry. Therefore, a rate cut in the near future is unlikely, unless retail inflation begins to ease. 
Reuters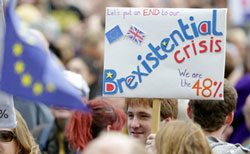 GLOBAL ECONOMY:  In its policy statement the central bank said that since its last policy in June, several developments have "clouded the outlook for the global economy". The RBI said advanced economies have "grown slower than anticipated" and world trade has remained "sluggish" in the first half of 2016. 
"International financial markets did not anticipate the Brexit vote and equities plunged worldwide, currency volatility increased and investors herded into safe havens," the RBI said.  "In the Euro area, the re-emergence of stress in some parts of the banking sector and the Brexit vote increased uncertainty. In Japan, downside risks have intensified in the form of a stronger yen, deflationary risks and contracting industrial production, triggering monetary and fiscal stimuli," the central bank said. 
What it means: The RBI is not too upbeat on growth prospects in the global economy across both advanced and emerging economies. Political developments including Britain's decision to exit the European Union, termed as Brexit, are likely to have a long-term impact. Having said that, for now, not only have stock markets regained lost ground, but currencies also have stabilised, which means good news for India.
Reuters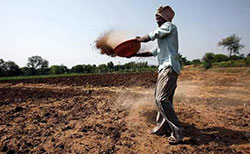 INDIAN ECONOMY: The central bank said that several factors including a good monsoon are helping support economic recovery in the country. Agricultural sowing is better than it was around the same time last year. Having said that, performance of industrial output has been "uneven" and that a "prolonged sluggishness" in the capital goods sector is "indicative of weak investment demand". 
Manufacturing, however shows an uptick, with the RBI's industrial outlook survey indicating a pick-up in new orders, both domestic and external. The rate of contraction in consumer non-durables slowed, pointing to some revival in rural demand. 
On the other hand, the pace of growth of consumer durables has been stable and buoyed by urban consumption demand, the RBI said. It also said that the service sector has seen a sharp acceleration and that there was good reason for optimism. Exports saw a turnaround in June, after 18 months, even as imports continue to contract, although at a slower pace.   
What it means: A good monsoon could mean better agricultural growth, even though industrial output remains a concern. A good monsoon, the passage of the Goods and Services Tax Bill and the seventh pay commission award would augur well for growth. However, slackening global growth and possible downgrades by rating agencies is a worry.
Like this report? Sign up for our daily newsletter to get our top reports.