Reuters | Credit: Reuters
After almost a three-month lull of iron ore mine auctions in the country, the Karnataka government is set to auction 14 mines in June.
These mines, referred to as category C mines, are primarily located in Bellary and Chitradurga districts with an estimated reserve of 127 million tonnes (MT) of iron ore. The Supreme Court had cancelled the leases of 51 iron ore mines in the state in April 2013 wherein it found massive irregularities in terms of environment degradation. These mines were then classified as category C mines.
As per the revised auction calendar published on the website of MSTC Ltd, a central government undertaking which provides electronic platform for mineral auctions, the Karnataka state government intends to invite bids for auctions by 10 June, while the letters of intent for the mining leases are likely to be given to successful bidders by 22 July. India's iron ore production for FY16 is estimated at 135 MT compared with 129 MT in FY15.
The Mines and Minerals (Development and Regulation) Amendment Act, 2015 (MMDR), which was notified in March 2015, allows states to auction mines bearing minerals excluding coal and lignite. However, given the rout in the resources space, mineral auctions have not picked up speed and only six mines have been auctioned in Jharkhand, Odisha and Chhattisgarh under MMDR. The last iron ore mine block to be auctioned was Ghoraburhani-Sagasahi, Odisha in March which was won by Essar Steel Ltd.
Experts are concerned about waning interest of bidders for new mines at this point of time.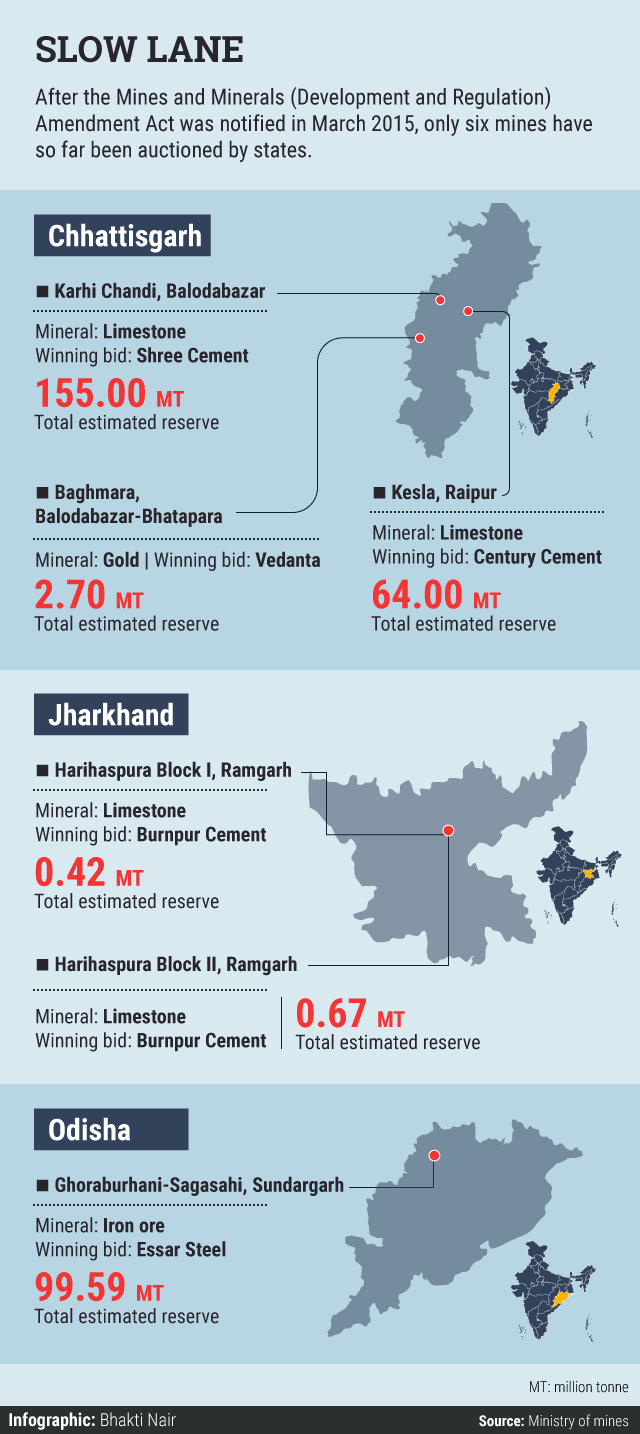 "With the steel sector not doing good, we doubt there will be appetite for new mines. Iron ore prices, however, have firmed up a bit since last few weeks, but we are not sure that it is a long-term or a short-term phenomenon," said Dipesh Dipu, partner at Jenissi Management Consultants, a consultancy focusing on energy and resources.
India's steel sector is under pressure due to low domestic demand and cheap imports from China. The Reserve Bank of India's bi-annual financial stability report released in December 2015 pointed out that a macro stress test for sectoral credit risk showed that iron and steel industry's gross non-performing assets ratio may increase from 8.4% in September 2015 to 11.5% by March 2017. Taking cognisance of the situation, the Union government is also putting in place a bailout package for ailing steel makers.
While the Karnataka government had invited bids for auction of these 14 iron ore mines in December 2015, the notice inviting tenders for auction were cancelled twice as prospective bidders were reluctant to participate in the auction process due to high stamp duty. The stamp duty in the state was being levied at 5% along with a 1% registration charge.
In comparison, state such as Chhattisgarh and Odisha charge stamp duty on the basis of the mining plan and hence the value varies accordingly.
However, they are much lower than the rates charged by Karnataka, according to a Karnataka mining and geology department official who requested anonymity.
The issue of high stamp duty, which was the main deterrent earlier, now seems to have been resolved.
"We have heard from the (Karnataka) state government that (the state) cabinet will soon approve the amendments to the Stamp Duty Act. A final decision has to be taken on bringing an ordinance or to move amendments for the same," said a senior Union mines ministry official who also didn't want to be identified.
The Karnataka state government official quoted above confirmed the development and said, "The state cabinet next week is expected to take up the amendments to the Stamp Duty Act."
Queries emailed to Karnataka's mines and geology department on 27 April remained unanswered.