We care a lot about Apple, largely because the company has made us all so productive. Instead of chained to PCs with their weight and processor-centric architecture (not to mention problems crashing and corrupting files) while simultaneously carrying limited function cell phones, we all now feel easily interconnected 24x7 from lightweight, always-on smart devices. We feel more productive as we access our work colleagues, work tools, social media or favorite internet sites with ease. We are entertained by music, videos and games at our leisure. And we enjoy the benefits of rapid problem solving - everything from navigation to time management and enterprise demands - with easy to use apps utilizing cloud-based data.
In short, what was a tired, nearly bankrupt Macintosh company has become the leading marketer of innovation that makes our lives remarkably better. So we care - a lot - about the products Apple offers, how it sells them and how much they cost. We want to know how we can apply them to solve even more problems for ourselves, colleagues, customers and suppliers.
Amidst all this hoopla, as you figure out how fast you can buy an iPhone 5 and what to do with your older phone, you very likely forgot that Kraft will be splitting itself into 2 parts in about 2 weeks (October 1). And, most likely, you don't really care.
And you can't imagine why I would even compare Kraft with Apple.
Kraft was once an innovation leader. Velveeta, a much maligned product today, gave Americans a fast, easy solution to cheese sauces that were difficult to make. Instant Mac & Cheese was a meal-in-a-box for people on the run, and at a low budget. Cheeze Whiz offered a ready-to-eat spread for canape's. Individually wrapped American cheese slices solved the problem of sticky product for homemakers putting together lunch sandwiches for school children. Miracle Whip added spice to boring sandwiches. Philadelphia brand cream cheese was a tasty, less fattening alternative to butter while also a great product for sauces.
But, the world changed and these innovations have grown a lot less interesting. Frozen food replaced homemade sauces and boxed solutions. Simultaneously, cooking skills improved. Better options for appetizers emerged than stuffed celery or something on a cracker. School lunches changed, and sandwich alternatives flourished. Across Kraft's product lines, demand changed as new technologies were developed that better fit customers' needs leading to revenue stagnation, margin erosion and an increasing irrelevancy of Kraft in the marketplace - despite its enormous size.
Apple turned itself around by focusing on innovation, becoming the most valuable American publicly traded company. Kraft eschewed innovation for cost cutting, doing more of the same trying to defend its "core," leaving investors with virtually no returns. Meanwhile thousands of Kraft employees have lost their jobs, even though revenues per employee at Kraft are 1/6th those at Apple. And supplier margins are a never-ending cycle of forced reductions as Kraft tries to capture their margin for itself.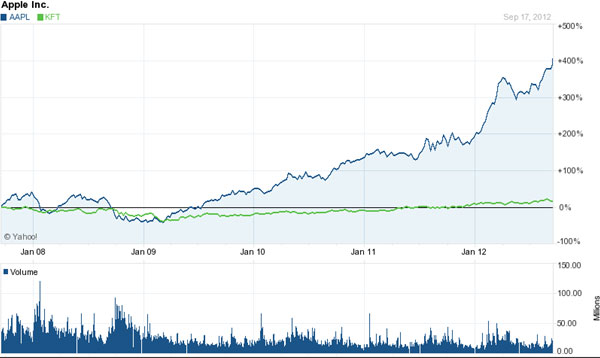 Apple's value went up because it's revenues went up. In 2007 Apple had #24B in revenues, while Kraft was 150% bigger at $37B. Ending 2011 Apple's revenues, all from organic growth, were up 4x (400%) at $108B. But Kraft's 2011 revenues were only $54B, including roughly $10B of purchased revenues from its Cadbury acquisition, meaning comparative Kraft revenues were $44B; a growth of (ho-hum) 3.5%/year.
Lacking innovation Kraft could not grow the topline, and simply could not grow its value. And paying a premium price for someone else's revenues has led to.... splitting the company in 2 in only 2 years, mystifying everyone as to what sort of strategy the company ever had to grow!
Apple spends nearly nothing on advertising. But it does spend on innovation. Innovation adds value. Advertising aging products that solve no new needs does not.
Companies that innovate change markets and reap the rewards. By delivering on trends they excite customers who flock to their solutions. Companies that focus on defending and extending their past, especially in times of market shifts, end up failing. Failure may not happen overnight, but it is inevitable.
(Adam hartung is the managing director at Spark Partners.)