When Deepak Shahdadpuri was having a meal at french café Suzette in Nariman Point in early 2012, he found the mozzarella cheese used in the dish surprisingly fresh and felt like buying some for his home. He called up the owner of the café to enquire which country it had been exported from, only to discover that it was sourced locally from Chandigarh. He called up Giuseppe Mozzillo and Jorge Chavero, expat founders of Exito Gourmet which produced the cheese, and expressed his wish to visit their factory. They stayed in touch and in April 2013, Shahdadpuri's DSG Consumer Partners invested in Exito Gourmet to expand and modernise its factory.
According to Mozzillo, Exito has transformed into a professionally run company from primarily being a kitchen operation since the investment.
Its plant has been upgraded, with stricter processes meeting requirements of MNC food chains and top hotels. Mozzillo, an Italian, said that when DSG Consumer invested in Exito, it had eight products which expanded to 20 products in six months after the deal.
Shahdadpuri has been honing his talent in picking promising food companies for the last decade or so (he was one of the early investors in Sula Vineyards' owner Nashik Vintners about 10 years ago). He has put this expertise to good use in building a portfolio of 10 consumer companies in last 14 months under the DSG Consumer banner.
Most of these companies are in the food processing space, while some are also leveraging technology to tap into the consumer spend. The single largest deal is Rs 10 crore, with all the investments being a minority shareholding.
New consumer fund
Shahdadpuri ventured on his own with DSG Consumer Partners in early 2013 as an experiment to find early stage investments in the burgeoning, but still nascent, consumption space in India and Southeast Asia. It was a sort of deja vu for him as he started off as a private equity investor in India a decade ago with investments such as Nashik Vintners, India's largest wine maker, and Bakers Circle, which supplies to global fast food chains in India from McDonald's to Domino's to Starbucks.
But scaling up niche consumer companies has been a challenge in India as it requires a longer duration than a typical PE holding period.
Shahdadpuri first invested (through his earlier fund GEM India) in Sula back in 2005 and he still holds a stake in the company even though he has been partially exiting. In Bakers Circle, GEM India first invested back in 2006 and Shahdadpuri re-invested in the company through DSG Consumer.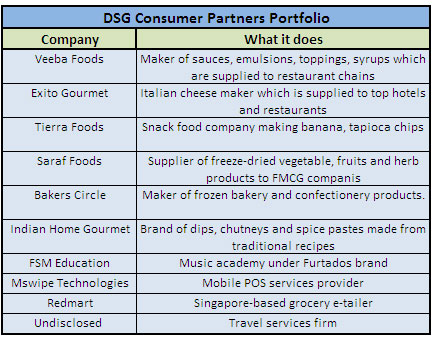 But market observers see potential in this segment. "In my view, there is a large market for early stage financing in the consumer sector, especially in consumer brands. That is a stage when brands need capital to establish themselves. Once they reach a certain size, they become cash generating, so the need for incremental capital is limited. So the trick in this business for private equity is to identify and take position in early stage companies, so that you can ride the growth curve," said Ritesh Chandra, head of consumer group at investment bank Avendus Capital.
Given its investments till now, DSG Consumer has been working like an early stage venture capital fund. One is that a significant majority of its investments are purely non-technology companies, in food and agri-processing sector. Second, the way it has been structured. 
No typical fund, just a holding company
Given his experience in the sector, Shahdadpuri opted to set up a holding company instead of a fund, where the corpus is invested rather randomly instead of periodically. So why this unique structure?
"Building an early stage consumer enterprise like Sula or Bakers Circle or Cleartrip takes a long time. The other issue was that an 8+2 structure doesn't work because after five years limited partners start asking for distributions," he said.
But this structure also has its own disadvantages. Firstly it does not work for typical LPs such as funds of funds and endowments, which contribute to most of the capital to alternative investment pools.
Also, given the size of DSG Consumer, providing money in follow-on rounds of funding may also be a challenge.
Shahdadpuri admits that fundraising is always tough, which was made tougher in this case due to a non-traditional structure and capital drawdown at one go.
But according to him it is about not using the same PE structure for all strategies but developing a structure specific to DSG's strategy. "My hypothesis is that we have to adopt structures that work for your own strategy. That is what DSG Consumer Partners is doing," he said. 
In the first phase, Shahdadpuri raised $10 million in this holding company from friends and former colleagues, besides making a significant personal investment. With this corpus now deployed, DSG Consumer will now look to raise another $10 million, which would be used for follow-on rounds and fresh investments over the next 18 months.
While Shahdadpuri expects a good chunk to come from existing investors, the firm will also bring in new investors, including institutions.
Venture returns?
But given the stage DSG Consumer is investing, will it make venture type of returns? "Venture type may be possible in some investments but I am not taking that sort of a risk. Around 15-18 per cent IRR is the minimum that I expect but I would like to get more. The businesses we are investing in are great but they are not changing the world," he explained, also admitting that some investments may not return money.
But Shahdadpuri may be downplaying the potential returns. "The challenge has always been that not every consumer brand succeeds. You may have your larger share of misses than successes but the value creation that happens in a success story far outweighs the risks associated with such investments," said Chandra.
DSG Consumer is currently a one-man show with Shahdadpuri finding deals and conducting financial due diligence and negotiations with external lawyers for legal aspects of the transaction. He plans to add to his team going ahead.
Everyone wants a big bite of consumption sector 
Interest of private equity investors continues to be consistently high in the consumer sector (staples and discretionary), with both 2012 and 2013 seeing investment of over $2 billion in the sector, according to VCCEdge, the financial research platform of VCCircle. But average deal size remains $14.5 million for the consumer staples sector and $10 million for the consumer discretionary sector, based on the aggregate data for 2012 and 2013.
But then why would entrepreneurs raise funds from DSG Consumer as the consumption theme is being chased by all the investors in India, from venture capital to mega-buyout firms? VCCircle interviewed eight entrepreneurs that Shahdadpuri has worked with. Entrepreneurs highlight Shahdadpuri's expertise in the consumer and food space, being the first investor in sector leaders like Sula and Bakers Circle. Another aspect entrepreneurs repeatedly emphasise is that he is a founder-friendly investor, who wants to understand where to help portfolio companies rather than just nitpicking.
These qualities worked in favour of DSG Consumer when other institutional investors also approached his company for providing funding last year, said Veeba Foods founder Viraj Bahl. Veeba supplies tomato ketchup and mayonnaise sauce to QSR chains and is promoted by Bahl family, which earlier started Fun Foods (acquired by Germany-based Dr Oetker Group in 2008).
Another aspect that favours DSG Consumer is that there are not many seed and early stage investors that are cutting cheques below Rs 30-40 crore in the broader consumer sector, an exception being Kishore Biyani's Future Ventures. Other investors like Sixth Sense Ventures, which is started by IDFC Securities CEO Nikhil Vora, have also recently forayed into the segment.
Shahdadpuri likes this segment as getting in early allows time to build a relationship with the promoter and valuations are also reasonable.
Take the case of Sula, with which he has worked with for nearly a decade. "Deepak has been a tremendous advisor in the Sula growth story and very much part of the team. He has been a sounding board for various ideas, continues to be so today and helps me look at the bigger picture," said Rajeev Samant, founder of Sula. Shahdadpuri has also advised Sula on all subsequent rounds of funding from the likes of Everstone Capital and Verlinvest and has been involved in advising the firm in making strategic business moves. 
Most recently, Sula was approached by an airline to serve one of its premium wines in the economy class section of the carrier. While the company management was excited, Shahdadpuri asked if Sula's premium product being served in PET bottles and potential revenues justify the partnership. Samant thought about it and decided not to go ahead with the partnership.
Entrepreneurs like Suresh Saraf of freeze-dried agricultural products maker Saraf Foods also like the long-term holding period that DSG Consumer's structure brings.
Also, since he has been involved with the sector for years, Shahdadpuri's network is another asset for entrepreneurs. This includes introductions to right executives at restaurant chains, helping connect to bigger companies for partnerships and even speaking to the local banker for a loan. 
"He is fairly well-connected and can introduce to people who are a good fit, which comes from being an investor for a while," said Roger Egan, founder of Singapore-based grocery e-tailer Redmart. By building a portfolio in a focused segment, Shahdadpuri is able to help companies in knowledge sharing and even developing new products. 
For instance, he connected Redmart to Indian grocery e-tailers Ekstop (one of Shahdadpuri's angel investments in India) and BigBasket to share learnings from respective markets. He also connected Exito Gourmet and Bakers Circle, which are working on a new product together.
And Shahdadpuri is happy to take more exposure to the food and agri-processing space. "I take a call in this segment very quickly and promoters also appreciate it," he said, though in future geographical exposure of DSG Consumer may change. While it currently has one portfolio company in Singapore, it sees more deals coming from the region as Shahdadpuri is based out of the city state now. 
But for Shahdadpuri the real challenge will start now as his portfolio starts seeing growing pains and they need subsequent rounds of funding. "Private equity investment is a tough business, but its easiest part is making the investment and difficult part comes after that," he said. 
DSG Consumer is expected to close its 11th deal in the coming weeks with a pipeline of four other deals. "Rest of the year I will not be pro-actively looking for deals but will be in portfolio management mode as three of my companies will raise follow-on funding," he said. 
(Edited by Joby Puthuparampil Johnson)