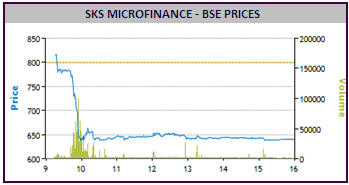 SKS Microfinance, the country's largest microfinance institution and the first to be listed on the stock exchange, has seen its scrip crumble again on Thursday dropping over 19% and it has lost a third of its value within a week. SKS scrip lost Rs 158.55 to close at Rs 640.70 today. The stock had hit Rs 1,490.70 on September 28.
And, it is just about holding on to its billion dollar market cap for now. The stock has also seen some hectic exits from its employees as they see the value of their holding shrink significantly after a successful listing just three months ago.
Its latest disclosure about operations in the state of Andhra Pradesh (AP) being partly restored has done little to assuage investors who have once again been fed with the caveat that the tide has not yet passed.
The company, in an earlier disclosure last week, had said that it was not able to conduct village centre meetings in 54% of the centres in AP for the week ended October 29, 2010. This has improved as for the week ended November 12, 2010, it was able to hold 97% of the centre meetings in the state.
But as the Andhra Pradesh Micro Finance Institutions (Regulation of Money Lending) Ordinance read in conjunction with rules and various notifications of the AP government stipulated that the periodicity of the loan repayment should not be less than a month, no collection or disbursement was done in the said meetings, SKS Microfinance said. It also said all 66 SKS field staff in the state arrested or detained without FIRs have been released.
In some centres where it had last collected money on October 15, it commenced collections but this is lower than normal on account of transition from weekly to monthly collection cycle and the related change in MIS, Passbook and member communication, it said on Thursday. "As said in our earlier notification, if this is not redressed satisfactorily, the resultant reduction in collections in AP is likely to have a material impact on the company's revenues, profitability and asset quality of the AP portfolio," SKS Microfinance added.
On the credit lines, it said SKS holds sanctioned credit limits of Rs 2,500 crore from various banks and disclosed that seven banks have disbursed a sum of Rs 292 crore post the AP Ordinance. The firm disbursed a total of Rs 1,048 crore for the month of October 2010.
Meanwhile, in 18 other states outside AP, the centre meetings were held as per schedule and collections were in line with the historical average of 99%.