The management remuneration of promoters of publicly listed firms took a breather but fat stock-based pay of professionals made up for it, taking total compensation of India's 25 highest-paid executives to Rs 1,175 crore ($150 million) for 2019-20, according to a VCCircle analysis.
Although just three professional managers figured on the list of 10 best-paid by public companies -- HDFC Bank's outgoing chief Aditya Puri and executive director Kaizad Bharucha besides Tech Mahindra's CP Gurnani. Thanks to stock options, the trio saw their cumulative remuneration more than double.
The increase in total compensation of Puri alone was more than five times the cumulative rise in pay package of the remaining 24 on the top-25 best paid list.
The previous year (2018-19) had seen other veterans (AM Naik of Larsen and Toubro or L&T and Paresh Sukthankar of HDFC Bank) encash stock options and at least one promoter (Ravi Jhunjhunwala of HEG) earn 10-figure pay package (Rs 100 crore or more) that had led the 10-highest paid executives alone to cumulatively cross Rs 1,000 crore.
In 2018-19, a majority of the promoters at the helm of affairs saw minimal or no increment as corporate earnings took a hit in line with slowdown in the economy even before pandemic hit business prospects. A good part of promoters' pay is linked to profit and paid as director's commission.
Pawan Munjal of Hero MotoCorp and Sanjiv Goenka of CESC had single-digital increments while JSW's Sajjan Jindal, Divi's Laboratories' Murali Divi and HM Bangur of Shree Cement saw a cut in remuneration.
Others lower down the order among the promoters who took a pay cut include Sunil Mittal (Bharti Airtel), Arvind Poddar and Rajiv Poddar (Balkrishna Industries). KM Mammen of MRF had a 4% pay hike.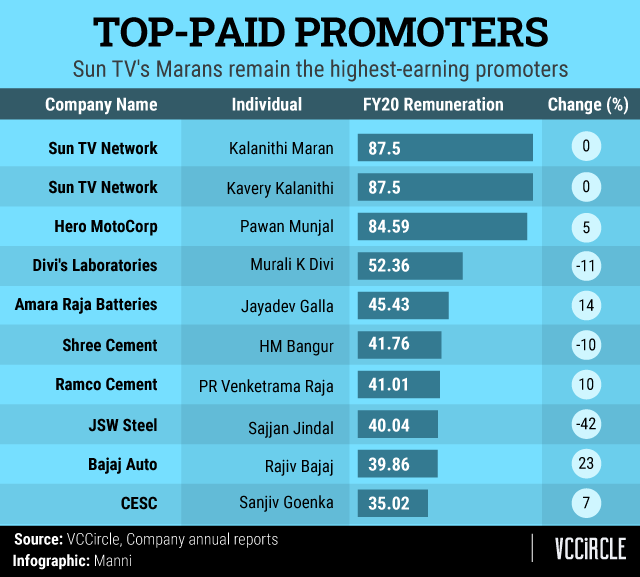 Overall, Aditya Puri of HDFC Bank took the top spot in 2019-20. The HDFC Bank outgoing boss's total remuneration is the second-highest-ever on record in a single year by an Indian.
In 2018-19, L&T's AM Naik had set a record with Rs 221.55 crore thanks to past ESOPs (employee stock ownership plans).
Gurnani of Tech Mahindra, who topped the list of best paid for three years in the past (2014-15, 2016-17 and 2017-18), was at number five in the overall chart and at number two spot among the professionals.
Kaizad Bharucha, who lost out to Sashidhar Jagdishan to take over the reins of the country's top private-sector bank, was the only second executive to see his package more than double in 2019-20.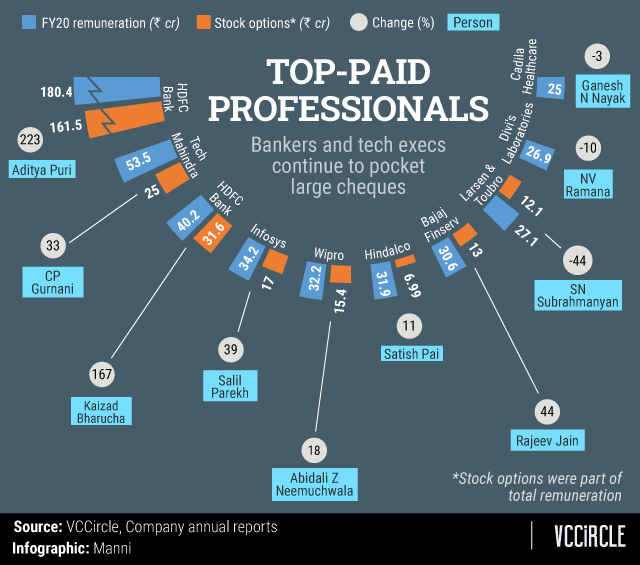 Over the years, more professionals are emerging in the top charts as value of ESOPs issued in the past rockets with the bull run in the stock market.
Indeed, almost half of the top 25 best-paid executives are professionals in 2019-20.
While the majority of professionals witnessed a hike in their salaries, L&T's MD and CEO SN Subrahmanyan, Divi's Laboratories' NV Ramana and Cadila Healthcare's Ganesh N Nayak saw pay cuts.
Note that this list only covers directors of publicly listed companies. Indeed, many private companies, especially large multinational firms, pay hefty compensation to local heads.
But top management compensation data is not available for all privately-held firms.