Credit: Akshansh Maan/VCCircle
Mumbai-based Book My Diamond Pvt. Ltd, which buys loose diamonds from manufacturers and sells them to jewellers via an app, has raised an undisclosed amount in its maiden funding round from three individual investors, the startup's co-founder Sankalp Goyal told VCCircle.
Chirag Nikunj Sheth, one of the investors, is chief research consultant at UK-based precious metals consultancy Metals Focus. Besides, a New York-based technology investor and advisor has put in money. The third investor comes from the finance background, the startup said, without disclosing the names.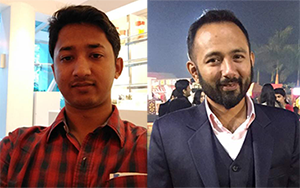 The business-to-business e-commerce platform was founded by Goyal, Govind Chintapalli and Pinank Kamdar. Chintapalli is an IIT-Bombay alumnus while Goyal is a dropout from the same institute. Kamdar comes with about 11 years of diamond trade experience.
Book My Diamond allows jewellery retailers to search its live inventory of loose, certified diamonds and buy them. "Our trade platform offers live prices of diamonds as they keep changing depending on the dollar market," Goyal said.
The startup claims to aggregate an inventory of Rs 2,000 crore, which is 65,000 stock-keeping units, around 30% of total Indian inventory. "Retailers don't need to stock inventory and the virtual inventory on Book My Diamond app gives them enough range to show to it to end-customers," Goyal added.
Currently, the company serves around 500 jewellery retailers across the country. It aims to on board at least 5,000 jewellers on its platform by the end of the fiscal.
Book My Diamond, which claims to be profitable from day one, said it will use the funds for marketing and growth. The three-member company also plans to grow its team to 50 by the end of this year. It is also planning to raise a bigger round next year as it prepares to build an international presence.
"Our plan is to go global after strengthening our presence in India. By 2018-end, we are looking to build our presence in at least five countries," Goyal said. Book My Diamond is targeting $5 million in revenues during FY2017-18.
Traditionally, the loose diamonds industry has mostly been a black market. Due to its secretive nature, not much is known about the market size or distribution. According to a Bain & Company report, the loose diamond market is worth $24 billion globally, and India accounts for 92% of total production. However, India's share of global consumption is 8-10%.
"The space where we operate is still not known to many and no one understands whether this kind of business opportunity exists. There are traditional traders and dealers in this market, but no tech-based player with live inventory," Goyal said.
New Delhi-based boutique advisory firm Burgeon Bizsupport represented Book My Diamond in the deal.