A premium product but an economical price tag. That is what yoga guru Baba Ramdev-backed brand Patanjali Ayurved promises customers. That strategy has worked, with Patanjali Ayurved Ltd, which flaunts its 'Make in India' roots, set to touch the Rs 5000 turnover mark in FY16.
Keeping prices low has been the cornerstone of Patanjali's marketing strategy. For instance, a 250 gm bottle of honey from Patanjali Ayurved Ltd comes for Rs 70. In contrast, market leader Dabur India sells the same pack size at Rs 120. Similarly, chyawanprash, one of the first products from the Haridwar-based company, is priced at Rs 250 for a 1000 gm jar. A 900 gm jar of chyawanprash from Dabur comes with a Rs 300 price tag.
"We arrive at the price by calculating the cost of raw material, administration, processing cost and a bit of margin for sustenance," says Acharya Balkrishna, managing director, Patanjali Ayurved, and Baba Ramdev's close confidant.
While its pricing strategy isn't anything new, it has helped in attracting eyeballs, especially in a price-sensitive market like India. "Any newcomer who enters the market tries to make a dent by crashing the price. Patanjali has also followed the same strategy," explains Rajat Wahi, partner and head, consumer markets, KPMG in India, an audit firm.
However, Wahi says the big question is how long the company will be able to sustain its low pricing strategy.
Price platform
Going by the latest IIFL Institutional Equities report, it seems Patanajali is already revising its strategy. The report states that there has been an increase in prices of popular products such as toothpastes and shampoos over the past few years. A 100 gm tube of Dant Kanti toothpaste, one of its top-selling products now sells for Rs 40 against Rs 28 earlier. Similarly, shampoo, a category which it entered much later has also witnessed price revisions. The price of a 200 ml bottle of Kesh Kanti Natural shampoo has gone up from Rs 68 to Rs 75. The company has also increased the price of its anti-dandruff shampoo from Rs 85 to Rs 95 (200 ml).
Ghee is one product where Patanjali has followed a different strategy. Marketed as a premium product, a 1000 gm jar of Patanjali Ghee comes for Rs 450 compared to a 1000 gm jar of Amul Ghee which sells for Rs 390.
The IIFL Institutional Equities states that by FY20, Patanjali is expected to have double-digit market share in 10 of the 25 categories including ghee (33 per cent), and chyawanprash (30 per cent). It projects a revenue of Rs 3,100 crore from the sale of its ghee by FY20.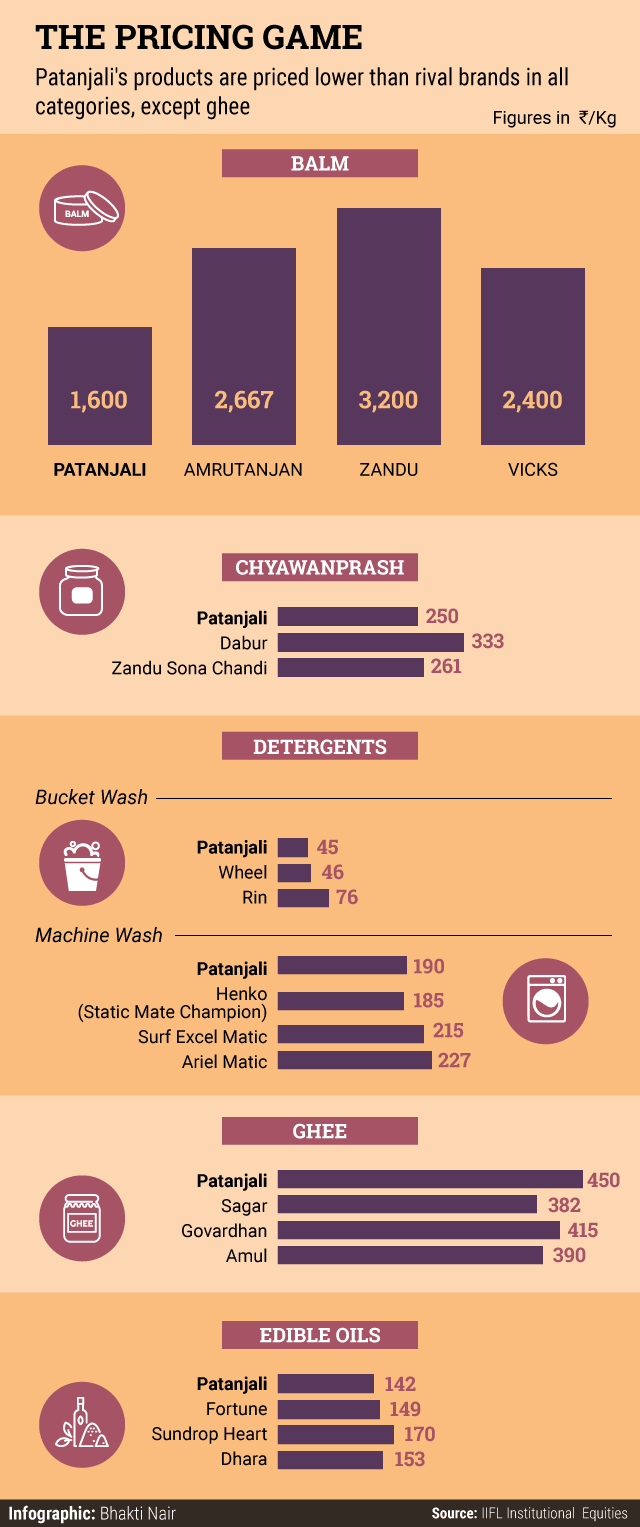 Balkrishna says that as a company Patanjali is not competing against anyone. "Each one of us is trying to do a good job, so that eventually people benefit from it," he explains.
Yet, even as the firm has increased the price for some of its products, the low price points have helped in sampling of its products, ultimately resulting in high sales. "In India, people do not mind testing a new product if it does not pinch their pockets," says N Chandramouli, CEO, Trust Research Advisory (TRA), a brand intelligence and data insights company.
With a cult following, a television channel, and yoga shows round the country, Patanjali's brand campaign is already at the halfway mark before it even starts
To be sure, the low pricing strategy does not impress everyone. "Low price points always raise questions about product quality. If other companies have been charging a certain rate for the same kind of products, how is Patanjali able to sell it at a much lower price," asks Anil Verma, a resident of upscale Defence Colony in Delhi.
Patanjali has also been adopting the marketing tactics of its competitors, which could alienate customers who trust the brand's promise of purity. Its instant noodles brand, launched just before one-time market leader Maggi returned to store shelves, was named Atta Noodles, thus downplaying the fact that it was actually a 50:50 blend of atta and maida.
Last December, a quality test was done on Patanjali's Ghee by the Food Safety and Standards Authority of India (FSSAI) after much debate on social media on its perceived quality.
Brand building
That is where Baba Ramdev's charisma comes in. With a cult following, a television channel, and his yoga shows round the country, Patanjali's brand campaign is already at the halfway mark before it has even started.
Shah Junaid/VCCircle