The average salary increase across sectors in India this year is expected to be 10.3 per cent, down from 10.6 per cent in 2015, according to a survey by global human resources consultancy Aon Hewitt.
This is, however, the best in the APAC region in absolute terms, followed by China at 6.9 per cent and the Philippines at 6.5 per cent, with Japan seeing the lowest average pay rise in the current year at 2.5 per cent.
The workforce in e-commerce and early stage start-ups will see the highest projected salary hike of 15.6 per cent, followed by life sciences sector and electronic/print media with 11.6 per cent and 11.2 per cent, respectively.
"The plateauing of double-digit salary increases in India is a sign of market maturity and a cautious approach to remain competitive in the APAC region. This is the new normal," the report said.
Financial institutions will offer the lowest average salary hike at 8.8 per cent, followed by metals industry at 9.3 per cent and telecommunications services at 9.7 per cent.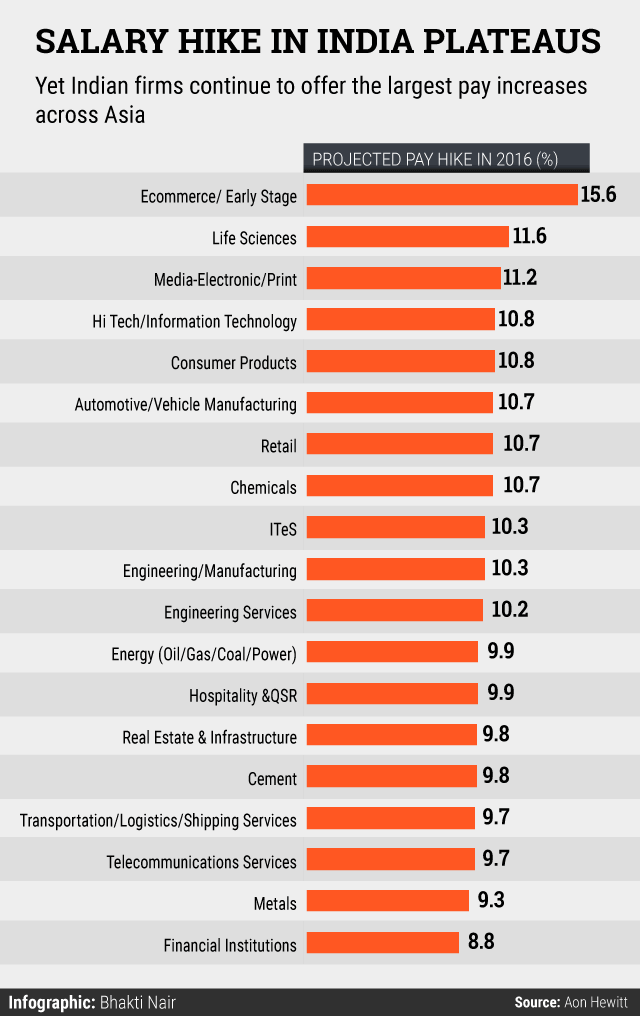 "Indian companies are taking clear steps to arrest the steady increase in compensation budgets. The lower inflation rates in the economy have helped companies in deciding on the reduced salary increases without creating too much disruption in the lives of employees," Anandorup Ghose, partner at Aon Hewitt India, said in the report.
In 2011, the salary hike was 12.6 per cent, which declined to 10.7 per cent in 2012, followed by 10.2 per cent in 2013, 10.4 per cent in 2014 and 10.6 per cent in 2015.
Despite the fall over the years, Indian firms continue to offer the largest pay increases across Asia.
The reported has also pointed out the plunging attrition rate, which is lowest since 2009 at 16.3 per cent after touching the high of around 20 per cet in 2011-12. Last year, it was 18.1 per cent.
"Attrition is at the lowest level in the recent history. What this does is help HR manage the new normal (salary rise) better, where you don't necessarily have to give high salary increases as a way to manage attrition. Companies, therefore, are comfortable giving lower increments and still manage the situation for themselves," said Ghose.
Aon Hewitt released the results of 'Annual Salary Increase Survey 2015-16' on Wednesday. The survey is based on compensation data collected during December 2015-January 2016 from 700 organisations across 19 industries.