China's central bank rate cut this past weekend highlighted the ongoing erosion in Asia's growth outlook. While China's easing measures and the stimulatory moves from other central banks in the region will eventually provide support for growth, recent economic data continues to track slowing activity in the first half of this year. Emerging Asia has made a strong contribution to world growth since the recession, but that looks to not be the case in 2015. The absence of firm growth in the region suggests downside risk for global growth, which could complicate the Federal Reserve's plan to eventually start moving rates higher.
Asia's export driven economies have recently taken some hits on the export front, which has weighed on the growth outlook for the region. Hong Kong, India, Indonesia, South Korea, Taiwan and Thailand have all seen their exports fall below the levels seen last year during March and/or April. India has seen exports contract on an annual basis in each month since December of 2014 to March, Indonesia since October of 2014 to March, South Korea from January to April, Taiwan from February to April and Thailand from January to March.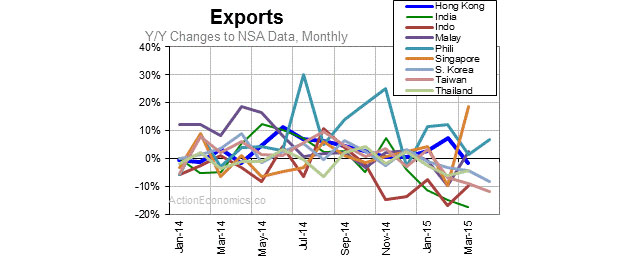 But perhaps the most notable development on the trade front in the region has been China's hefty slide in exports and imports. Exports fell 6.4% y/y in April after the 15.0% drop in March. Imports tumbled 16.3% y/y in April after a 12.7% decline in March to leave annual declines that stretch back to November. The sustained pull-back in imports adds to increasing concerns over the domestic outlook. The declines in exports are also a concern but can be partly explained by the government's focus on domestic led growth. Of course, the slide in exports during March and April does track the difficulties seen in the region as a whole.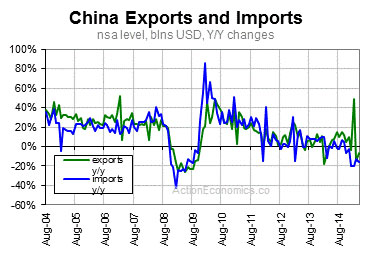 Turning our attention to the individual growth outlooks, we begin with China. China's growth is seen slowing this year to leave a 6.7% y/y pace in 2015 that would undershoot the government's 7% y/y growth target. Granted, such a growth rate would compare favorably to the U.S., Europe and Japan, but it would leave activity running short of what has been the "norm" in recent years. Recall that China ran 9% to 10% GDP growth rates (y/y) for the years from 2008 to 2011 before slowing to 7.7% rates in 2012 and 2013 and a 7.4% pace in 2014.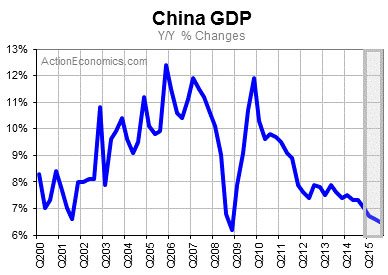 The other counties in the region are mostly seen experiencing slower growth rates in Q1 and Q2 of this year, with some nations enjoying a pick-up in the second half that salvages growth for the entire year. Hong Kong GDP is expected to slow to a 2.0% y/y clip in Q1 from the 2.2% rate of increase in Q4 before gradually improving to a 2.7% rate by Q4 of 2015. Growth is projected at 2.4% in 2015 following the 2.3% y/y pace in 2014 and 2.9% y/y growth rate in 2013.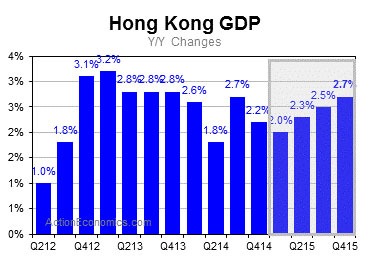 India is a bright spot in the region, as the Prime Minister's reforms have invigorated the domestic economy, although exports to Europe remain a source of concern. GDP is seen slowing to a 7.3% y/y growth rate in Q1 and a 7.0% pace in Q2 before improving to a 7.5% rate of increase by Q4. Our outlook would leave the economy with a 7.3% growth rate in 2015 following the 6.9% gain in 2014 and 6.4% clip in 2013.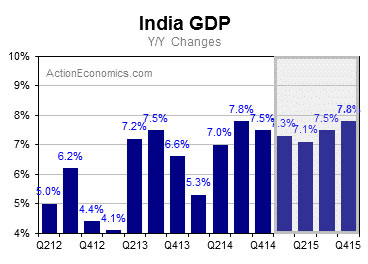 Indonesia's GDP moderated to a 4.7% y/y pace in Q1 from 5.0% in Q4. A 4.9% rate is projected for Q2, with activity improving to a 5.5% clip by Q4. GDP is seen running at a 5.1% rate in 2015. That would be just above the 5.0% clip in 2015 but well short of the 5.6% in 2013 and 6% GDP growth rates seen in 2010, 2011 and 2012.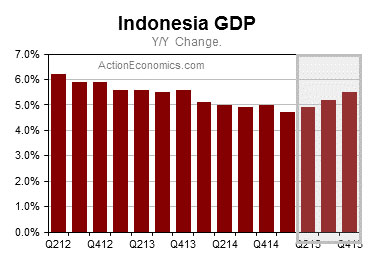 South Korea's export driven economy remains under pressure in part due to the Bank of Japan's devaluation of the yen, which has made Korea's exports relatively more expensive. GDP slowed to a 2.4% growth rate in Q1, as activity continues to moderate from the 3.9% rate seen in Q1 of 2014. But growth is expected to nudge higher to a 2.7% clip in Q2 and pick-up to a 3.4% rate by Q4 of this year. But the weak start to the year will leave 3.0% GDP growth in 2015 that falls short of the 3.3% pace in 2014.
Malaysia stands out in the region due to its status as an energy producer. Of course that fact now counts as a strike against the growth trajectory. We see activity sliding lower this year, with the anticipated 5.3% y/y growth rate in Q1 giving way to a 4.7% clip by Q4. Growth is expected to slow sharply to a 4.7% y/y pace in 2015 following the 6.0% y/y clip in 2014.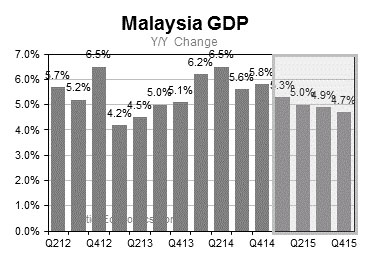 Casting our gaze to the Philippines, we see modestly slower but steady growth that runs in the 6.5% to 6.8% region for each quarter of 2015. GDP is seen at 6.2% y/y in 2015 from 6.1% in 2014, with the slight uptick due to projected improvement in the second half of 2015. Of course, GDP ran a 7.2% in 2013 and 6.8% in 2012, so our expectation would leave comparatively slower growth this year.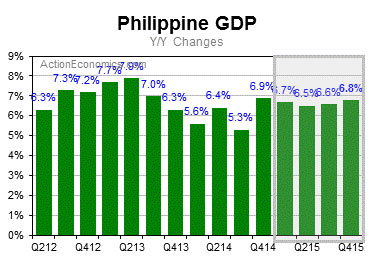 Singapore's Q1 GDP was a pleasant surprise, as Q1's 2.1% clip matched the 2.1% rate in Q4, which was contrary to an anticipated slowing. A modest acceleration to a 2.3% rate in Q2 should give way to 3% GDP prints in Q3 and Q4. But the slow start to the year puts 2015 GDP on track for a 2.8% y/y rate in 2015 after the 2.9% rate in 2013. Again, these rates are less than favorable when compared with past years, with 2013 seeing a 4.4% gain, 2012 posting a 3.4% growth rate and 2011 running a sizzling 6.3% clip.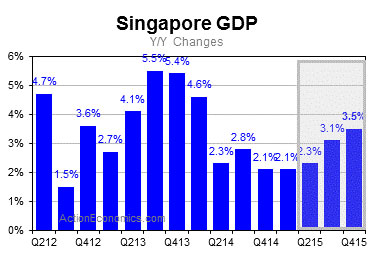 Taiwan saw an improvement in Q1 GDP to a 3.5% y/y rate following the 3.4% clip in Q4, contrary to expectations for moderation. But Taiwan seems unlikely to escape the strong gravitational force from China. Hence, we see GDP decelerating to 2.9% rate in Q2 that given way to rates that just clear 3% in Q3 and Q4. A slowing to a 3.3% GDP growth rate is anticipated for 2015 following the 3.7% rate in 2014.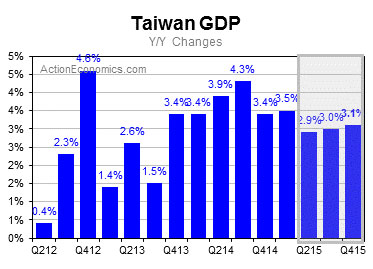 Thailand's GDP is seen accelerating to a 4.5% y/y rate in Q1 from 2.3% in Q4, but that is due to an easy comparison with the depressed Q1 of 2014 level. Growth of around 3% in seen in Q2 to Q4, but again this is due to relatively easy comparisons. The bottom line is that the expected recovery this year is looking weak, with consumer confidence waning and the outlook for exports darkening. The central bank has eased policy while the government is expected to implement stimulus measures. GDP is expected at 3.5% in 2015 after the 0.7% rise in 2014.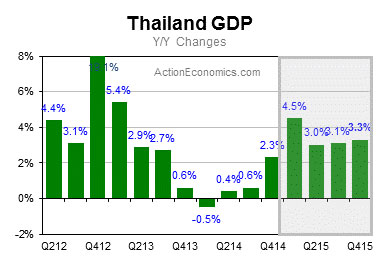 Overall, Asia will not be the reliable source of growth this year that it has been in the years since the recession. Easier policies and government stimulus should eventually provide a boost, as will the pick-up in the U.S. and a return to better growth in Europe. But for 2015, Asian economic growth will not live up to the lofty standard established in the post recession global economy. This will make the Fed's job more challenging, as slower growth in Asia keeps downward pressure on commodity prices, in turn holding back inflation globally and frustrating the Fed's desire for underlying inflation to sustainably return to normal growth rates. Of course, the low commodity/energy price environment ultimately aids U.S. growth and employment.
(Ryan Brecht is Senior Economist, North America for Action Economics, LLC.)