There's some good news for startups in India as the number of firms bagging angel and seed investments shot up to a six-month high in October after early investors started deserting new ventures early this year.
Angel and seed investments that support ventures in the early phase—many times bringing the first funding cheque from external investors—are critical for the startup ecosystem. While venture capital firms had tightened their purse strings a year ago, angels and seed stage investors had retained their faith in startups. But the foundation turned shaky in April and showed serious cracks in September.
However, data collated by VCCEdge, the data and research platform of News Corp VCCircle, show there is some revival. The number of angel and seed deals increased to 64 in October from a low of 40 in September. The total deal value at $67.29 million during the month was also the highest this year.
Nitish Agrawal, managing director of investment bank Indium Capital, said there was a roll back in deals that started from November-December last year; so the previous few months were lean.
"People have become active again; so I am not surprised that the deal volume has increased. However, I would not read too much into just one month data and wait for some more time before declaring that good times are here," he added.
Devendra Agarwal, founder and CEO, Dexter Capital Advisors, a boutique investment bank, also said drawing a definite trend from month-on-month comparisons would be harsh as for some deals decision-making would take more time.
"However, we could expect more deals in the coming months because multiple funds have raised capital and they will be keen on deploying them," he added.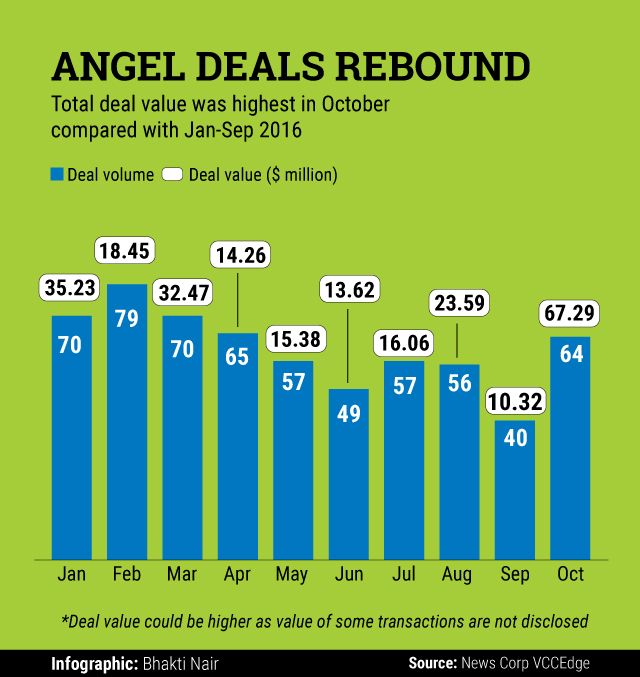 With this, the total number of Indian startups getting angel/seed investments has moved to 607 (approximate number as some startups received multiple angel funding) in the first 10 months of 2016 with an announced aggregate deal value of $246.66 million. In January-October last year, in contrast, 688 angel and seed deals worth $316.98 million were recorded.
With two months to go, 2016 is unlikely to match the record 845 angel and seed funding transactions clocked in 2015 as a whole. But, the pick-up in early stage investment activity shines a silver lining at a time when capital flow has got hit amid startup shutdowns and markdown in valuations of companies making investors more cautious and risk averse.
The biggest angel/seed deal during the month was the $2.5 million investment in Delhi-based solar marketplace MYSUN, run by Eastern Light and Power Pvt. Ltd, by US-based venture capital firm General Catalyst Partners.
Three more companies attracted angel/seed investment worth $2 million during the month— aerospace and defence technology startup Aadyah Aerospace Pvt. Ltd; children's health and wellness startup Good Parents Inc and IndianGifts Portal run by Intermesh Shopping Network Pvt Ltd.
Like this report? Sign up for our daily newsletter to get our top reports.