Angel and seed investments, which held some ground this year in the face of an overarching slump in funding sentiment, dived to their lowest in September both in terms of value and volume.
The number of angel and seed deals slid sharply to 39 in the month as compared to 50 in August, reveal the data from News Corp VCCEdge, the analytics and research platform of VCCircle.
The total value of investments in the category, too, dropped to $10.32 million, its lowest in the year.
The plunge in the number of deals in September has pulled down the total number of angel and seed investments in January-September quarter to 540 against 599 in the corresponding period last year. 
Angel and seed deals in 2015 had peaked to 845 but capital flow started drying this year amid shutdowns and markdown in valuations of companies making investors more cautious and risk averse.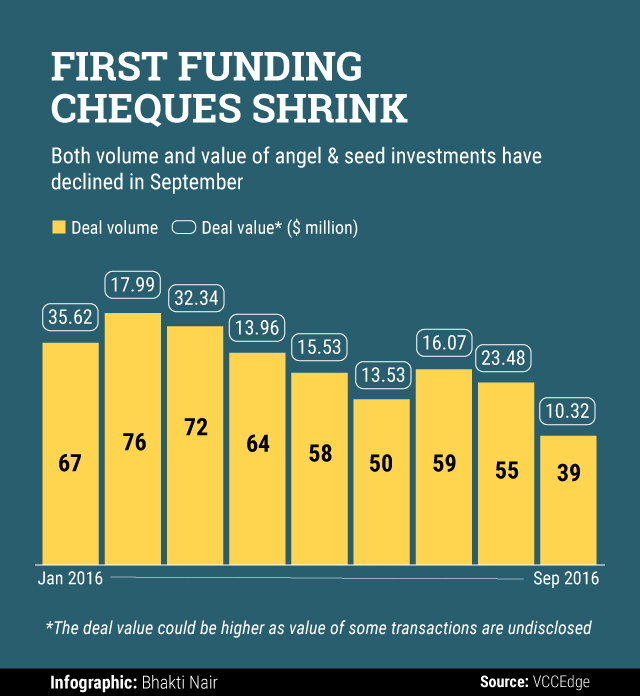 "Any angel or seed activity would be highly correlated to what is happening in the broader market as Series A, Series B, and Series C deals are also dwindling. So if the next round deals slide, the confidence of angel and seed investors would also sag. This is reflected in the data," said Devendra Agarwal, founder & CEO, Dexter Capital Advisors, a boutique investment bank.
Agarwal also said that the number of angel investors has stopped investing because they haven't managed to exit from their previous investments because of poor market conditions.
Besides, a lot startup entrepreneurs who had emerged as active angel investors, have also been missing in action because of the pressure from investors to focus on their own business, Agarwal added.
A section of investors, however, is hopeful of a turnaround. Saying that he remains "largely positive" about good investments happening in the next few months, Deepak Natraj, managing director of venture capital firm Aarin Capital said: "This is not revenue growth quarter-on-quarter. Sometimes there will be lots of deal, and on other times, there will be fewer deals... You can do one Infosys in three months rather than doing 15 small deals in one month."
Sunil Goyal, founder and CEO of YourNest, which essentially chases pre-Series A deals, also said the phases of slow investments don't last long and sentiment will change for better soon. "Trends confirm that the fund raising for start-up entrepreneurs continues to be tougher. The traction and milestone targets keep moving ahead for actual investment round to conclude... However, such periods don't last long. Investors need to act faster and entrepreneurs need to pass the test of persistence," Goyal said.
Meanwhile, the biggest deal during September was bitcoin exchange Unocoin raising $1.5 million (Rs 10 crore) in a round led by early-stage investor Blume Ventures.
Like this report? Sign up for our daily newsletter to get our top reports.