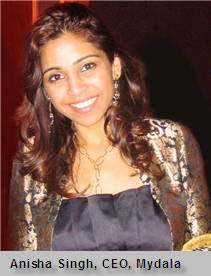 Now the private equity guys (albeit personally) are joining e-commerce bandwagon. MyDala.com, the New Delhi-based group buying site, has raised Rs 1.1 crore in angel funding from PE veterans Ajay Relan and Jayanta Basu, besides two unnamed US investors.
Relan and Basu, the founding partners of Delhi-based PE firm CX Partners, have invested in MyDala in their personal capacity. Relan was previously heading the Indian operations of Citi Venture Capital International while Basu was in his team. In 2008, the two quit CVCI and set up the PE fund CX.
Anisha Singh, Founder and CEO of MyDala, confirmed the development to VCCircle.
MyDala Stats
MyDala claims that it has a subscriber base of 200,000 users, although it's not known if they all are active users of the site. It also claims to have sold 100,000 vouchers so far. "Our gross business is at Rs 1 crore ($250k) and in terms of savings for consumers, this is Rs 2 crore ($500k)," said Anisha Singh. MyDala caters to 600 cities. Singh claims that on a zonal level, they have accomplished break even.
Popular categories of deals on the website include recreation, restaurant, health and beauty services. MyDala CTO Ashish Bhatnagar says, one of the trends is that the buying capacity of users has doubled. "In 2009, it was around Rs 200 and this year it has risen to Rs 300-400. More credit card transactions are occurring on Mydala, it appears that people are more comfortable using payment gateways," he said.
The website saw a doubling in the number of unique visitors in October from 75,000 to 1.5 lakh. Around 23% of MyDala's customers return for a repeat purchase on a month on month basis.
Groupon Clone
MyDala's model is aligned with the concept of US-based deals site Groupon.com. "Woot.com is focused on products whereas Groupon is focussed on services, where the margins are bigger. We have completely Indianised this concept – for example, Indians are impulsive and would spontaneously go in for a deal so we had to offer instant vouchers as opposed to vouchers that are generated at the end of a day. Mobile is also a strong part of our growth strategy. We already offer an SMS based service and are now developing an application," said Singh.
MyDala.com is being positioned as a deals and social commerce site, and hitch-backed with existing networks such as Burrp.com, FoodieBay, IndiaTimes and Brijj. "Initially, we grew using other networks. We partnered with them to promote our deals to their userbase," explained Singh. She also bets on the viral play to attract users, and is running online ads on Facebook.
Most of the burn is due to day to day operations and the marketing spend is minimal, according to her. The focus is also on modifying the user interface and tweaking the website to make it easier for users to share deals with their friends.
Competition
Singh believes Mydala is 'similar yet different' in comparison with other Indian deal sites. SnapDeals.com by Jasper Infotech and Dealsandyou.com by Group Buying Global AG and Smile Interactive Technologies are two close competitors, probably two leading players too.
MyDala is different from SnapDeals as the latter is not a group buying site and merchants have to accept a deal whether it is one customer or 25, whereas MyDala offers its merchant partners an acquired customer base and ensures that the number of users opting for a particular deal meets their demands.
Essel World, a merchant partner, would only agree to a deal if it gets 100 customers at a go, says Singh. Singh is comfortable with competition and is not worried but says, she finds the unknown horrifying – in a fast changing sector and heightened interest from global investors, after all, anything could happen.