The monsoon is yet to arrive for Indian startups that have been waiting to see venture capital firms flushed with cash loosen their purse strings after early-stage capital flow dried up.
The number of startups that got funded in the April-June quarter dropped to the lowest in almost four years, according to VCCEdge, the data research platform of VCCircle.
An Indian startup got funded every 13 hours in the second quarter of 2017 against every 10 hours at the beginning of the year. This is a far cry from the peak in 2015 when a startup found an investor every five hours, show data compiled through public announcements and regulatory filings of transactions that are not public yet.
"On the early-stage side, investors are becoming more cautious about growth prospects and use of money," says Amit Varma, co-founder of Healthquad, a healthcare-focussed venture capital fund.
He added that there is a low preference for business-to-consumer operating models as the heavy losses and the ever increasing time to break even are making them unattractive.
According to VCCEdge, 163 startups got funded during the three months ended 30 June, down 25% from the previous quarter and 43% from the same period last year.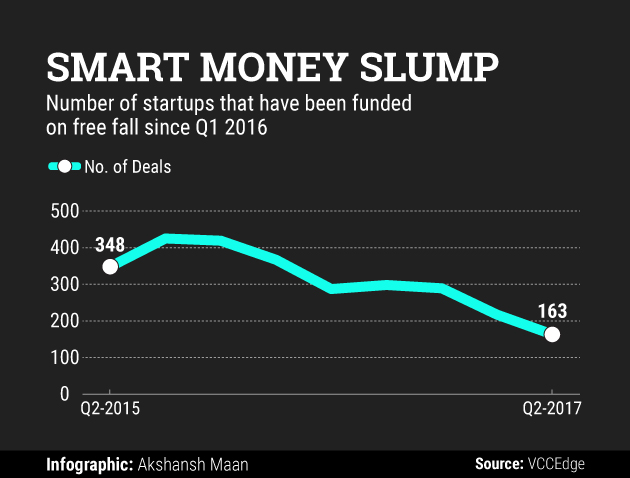 The cumulative deal value decreased to $471 million in April-June from $870.6 million in the preceding quarter.
The number of transactions, however, gives a better picture on deal-making as the value of investments can be skewed by a few large funding announcements.
Internet-based software-as-a-service ventures accounted for half the startups that got funded last quarter.
The largest VC investment last quarter was in Bundl Technologies Pvt. Ltd, which operates online food ordering and delivery platform Swiggy.com. It raised $80 million in a Series E round of funding from investors including Naspers, Bessemer Venture Partners and SAIF Partners.
Interestingly, the drought in startup funding is not caused by any shortage of capital. Limited partners (LPs)—whose money is reinvested by private equity and VC funds—committed near-record money to Indian VC funds early this year. In the first three months of 2017, LP commitment to Indian VC funds surged almost seven times sequentially to Rs 1,449 crore, marking it the second-best ever quarter, as per a separate VCCircle analysis.
LPs had committed a record Rs 7,356 crore, or well over $1 billion, to Indian VCs in the third quarter of 2016.
Srikrishna Ramamoorthy, partner at Unitus Seed Fund, is optimistic about the overall startup ecosystem in India and still thinks that it is a great time for starting a venture in the country if the business idea has the potential.
"It is safe to say that investor exuberance is wearing off from the unrealistic highs of 2015-16. But it remains a great time to be starting up in India simply because so many real problems are still waiting to be solved," he says. "For a great idea and team focussed on cracking a large problem, raising capital should be the least of challenges."