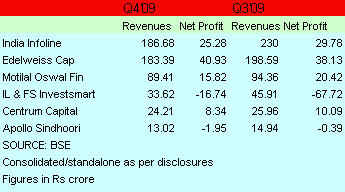 With Indian stock markets on a sustained upward rally since last month, after hitting a three year low in March 2009, the sector which has seen a direct positive impact of this are obviously the brokerage firms. Top brokerage and financial services firms have outperformed the benchmark sensex over the last few months after broking volumes picked up and latest quarter results indicated the worst was over.
n
According to a VCCircle analysis of the financials of half a dozen listed companies(excluding Indiabulls which is yet to declare results), financial services and brokerage firms have seen profits go up 136% on a sequential quarter basis i.e, compared to the quarter ended December'08. The improved bottomline was largely due to IL&FS Investsmart cutting down on its losses from the previous quarter.
n
Total income declined 13% compared to the December quarter for the six companies in the sample which consisted of Edelweiss Capital, India Infoline, Motilal Oswal, Apollo Sindhoori, IL&FS Investsmart and
Centrum Capital.
n
The silver lining is that although income from operations declined in Q4 of FY09, the drop was much lower compared to Q3 (first quarter post Lehman Bros filed for Chapter 11) when it declined 20% compared with Q2 and much lower than the 31% drop in Q1'09 vs Q4'08. The Jan-March period was also the first quarter where profits have improved on a sequential basis over the last four quarters.
n
Among the larger firms to have declared results: India Infoline which derives more than half of business from equity brokerage saw revenues decline 19% compared with Oct-Dec quarter to Rs 186 crore and profit decline 18% to Rs 25.2 crore. India Infoline appears to have been most
affected by drop in financing and investment business which more than halved to Rs 34.5 crore for the quarter, reflecting poor business in the margin funding area. Brokers are required to put up ~20% of the trade value as margin with exchanges and they are required to fund these trades until they receive money from their clients. Moreover, a circular issued by SEBI in March, 2008 had asked brokers to put upfront margin money for Institutional trades which until now were exempted from margin requirements (unlike retail trades).
n
Edelweiss reported 7.5% lower income at Rs 183 crore for the fourth quarter even as consolidated net profit rose around 6% to Rs 40.9 crore on a sequential basis. Drop in revenues was in most of the businesses unlike India Infoline (which managed to see flat-marginal
growth in commodity and equity brokerage activities). As a result, Edelweiss couldn't capitalise on the 15% growth in income from treasury & arbitrage business.
n
Among others, Motilal Oswal's revenues dropped 6% sequentially to Rs 89.4 crore with net profit shrinking 25% to Rs 15.8 crore at a consolidated level.  Baring India PE backed JRG Securities has seen around 25% drop in revenues (standalone)on a sequential basis while
slipping into a net loss for the quarter.
n
Outlook Positive
n
HSBC owned IL&FS Investsmart saw 25% drop in revenues to Rs 33.6 crore while reducing consolidated net loss from Rs 67.7 crore(Q3'09) to Rs 16.7 crore for the Jan-Mar'09 quarter.
n
Given that trading picked up significantly in the month of May post general election results, the improvement in financials is likely to continue in the current quarter. Add to it is the new stable government which has aroused hopes of  bull market is in the offing despite pain in the overseas economies.
n
One of the prime beneficiaries of such a scenario would be stock broking activity as more money flow into equities.
n
Not surprisingly then Edelweiss Capital scrip has more than doubled in less than three months, India Infoline scrip has shot up more than four times since November 2008, Indiabulls Securities stock price has more than trebled since January'09 and Motilal Oswal scrip has
rocketed almost four times in just three months.