As the window for India's primary capital market opened in mid-2014 with the new central government taking control, private firms cutting across sectors have tapped the public markets to raise capital.
Around 50 firms have floated their initial public offerings (IPOs) since May 2014 and over two dozen are currently in the pipeline, either waiting for the right time to go public or for a green signal from capital market regulator Securities and Exchange Board of India (SEBI). And this does not include the scores of smaller companies tapping the SME exchanges of BSE and NSE.
VCCircle looked at the league table of merchant banks that have been leading the trend. The top bankers have snapped mandate from two-three dozen firms with many being common bankers for a single IPO, especially for large-sized issues.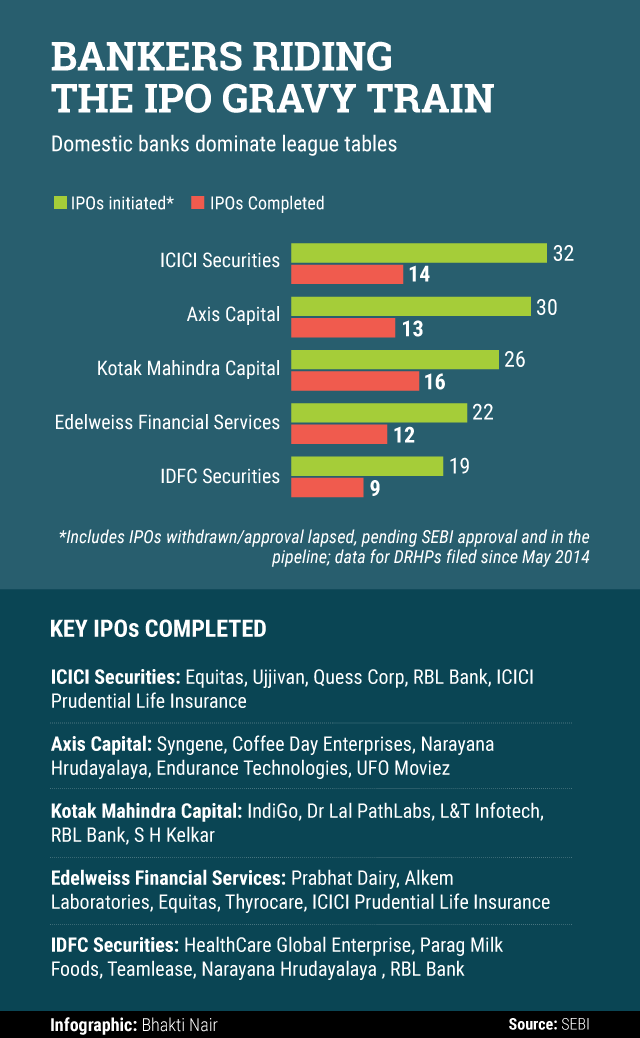 ICICI Securities and Axis Capital, followed by Kotak Investment Banking, which has completed the highest number of IPOs compared to the other two, make the top of the pecking order.
This is not too different from the early trends two years ago though Axis Capital has moved a few notches up.
In fact, both Kotak Investment Banking and Edelweiss Financial Services have higher percentage of 'closing', with more than half of the mandates completed, compared to ICICI Securities and Axis Capital.
Subhrajit Roy, executive director and head - ECM (equity capital market) Origination, Kotak Investment Banking, said the investment banking unit of the country's fourth-largest private lender has leveraged its experience in the institutional equities coverage, along with the core ECM team.
"This gives the advantage of a full-services financial firm that has helped to the time the market as well as handle the regulatory requirements at a faster space," he said.
According to Roy, "As an advisor, the bank has an active financial sponsors group (team that advises private equity investors) that has worked with the companies from its early stages. This has helped in the later stage when the sponsors were looking for an offer for sale through the IPO as a preferred route for exit."
Kotak Investment Banking was involved in the IPOs of some marquee names such as largest air carrier IndiGo, second-largest diagnostics chain Dr Lal PathLabs and the first private bank to float an IPO in nearly a decade, RBL Bank, among others.
Desi banks chop off international peers
If the broader league table is considered, it appears local merchant banks are clearly dominating the charts. The other Indian banks in the top 10 include IDFC Securities, SBI Caps, Yes Securities, IIFL and JM Financial.
Just one foreign bank figured among the top 10 (by DRHPs filed). Citigroup was ranked at number seven while Jefferies came at number 12 with JP Morgan one step behind.
Some of the key international names of the past like Deutsche and UBS, do not figure among the top 15.
Like this report? Sign up for our daily newsletter to get our top reports.