India's liking for Biryani dates back to the Mughal era. The quintessential rice-based recipe, a gastronomic delight for any foodie, has in the recent past started to draw investors' interest who sense a business opportunity due to scalability and delivery- friendly characteristics of this royal cuisine.
The dish, which has already gained the status of a culinary cult in the country, has seen several restaurant chains, mainly dedicated to single cuisine biryani, in the past 6-7 years. While brands such as Paradise Food Court and Mani's Dum Biryani are formidable players down south, Gurgaon-based Biryani Blues and Kolkata-based Guha Roy Food Joint & Hotel are running profitable businesses in their respective areas.
These biryani joints have attracted several deals in the past. While Biryani Blues raised fresh capital from Carpediem Capital, Bengaluru-based Mani's Dum Biryani has raised a round of funding from a Chennai-based investor.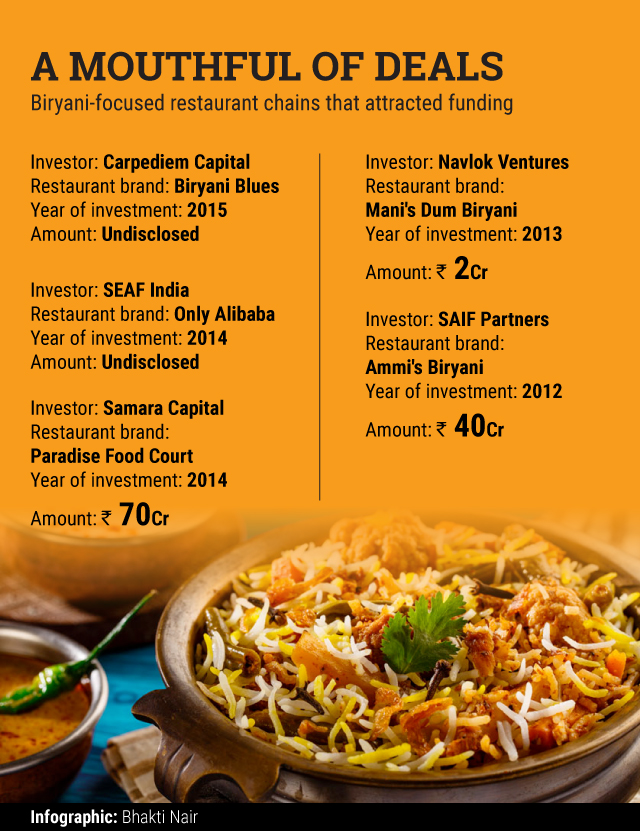 However, the first reported institutional funding in the space was made by SAIF Partners, which invested Rs 40 crore in TMA Hospitality Services Pvt. Ltd, the owner of Ammi's Biryani chain.
Let's take a look into the reasons that have led to investors pumping money into the space.
Volume business and standardisation
One of the reasons that has attracted people such as Aniruddha Guha Roy, a former chartered accountant, and the owner of 'Only Alibaba' restaurant chain is that the dish can be rolled out on a large scale.
"It's a volume business. Though we may be selling at a premium price of nearly Rs 170 which is higher than local shacks offering at Rs 60- Rs 90 bug, we are in profit as we receive lot of orders in a single day," said Guha, who launched the chain in 2009.
SEAF, an emerging markets-focused investment firm that invests in small and medium enterprises (SMEs) through separate country-focused funds, had invested $2.45 million (Rs 15 crore then) in the company in 2014. 
Hemendra Mathur, who resigned as the managing director of SEAF in May this year, believes that standardisation is another factor that has led to the growth of biryani chains. 
"There is a challenge of standardisation in Indian menu if we go beyond (launch) certain number of outlets due to diversity in Indian cuisines. However, in case of biryani, one can standardise the specimen of rice or meat from outlet to outlet or city to city," Mathur said.
Single Item food
The dish, which is perceived to be a full meal, not only saves the customer from shelling out a big bill but also spares him from the difficulty of choosing complimentary food items. 
"Biryani is easily served and nowadays with more working couples around, they don't order too many things but biryani," said Raymond Andrews, the founder director of Biryani Blues, which at present runs 7 units in Delhi-NCR.
Carpediem Capital's Abhishek Sharman seconded his view, saying that the pan Indian appeal for biryani also comes from the fact that it is a full meal in itself. 
Affordability in terms of price is also another reason which has led to a spike in sales of these QSR chains. Price may vary from region to region, but a full plate of biryani comes between Rs 200-Rs 300 on average. Andrews claim that all his units together offer nearly 1,000 meals a day.
Delivery- key to success
Most of these biryani joints have resorted to delivery and take away due to escalating real estate costs, seen as a hurdle in setting up newer units. The single-item food is also quite amenable to be delivered at people's doorstep. 
Chains such as Mani's Dum Biryani had last year decided to focus more on delivery and take-away services. "Delivery and take-away contribute nearly 75% to our revenue. So they are going to be our priority," Narayanan had told in an earlier interaction to VCCircle.
More than half of the revenue that Biryani Blues generates every year comes from home delivery segment. "Almost 60% of our orders come under home delivery segment. There is a huge working population in Gurgaon, resorting to home deliveries amid tight schedules," Andrews said.
Sharman, one of the senior executive at Carpediem Capital, said Indian food items such as dosa are normally very fresh and they are not fit to be offered as home delivery items. "One of the well-delivered cuisines in today's India is biryani and it is the ideal way to play the delivery segment," he said.
"Delivery focussed proposition is far more scalable than dining format. Once you mechanise the process and maintain the standard and taste, the business is very scalable," Sharman said while highlighting the reason behind the growth of Biryani Blues, which has expanded to nearly 10 stores and monthly sales rising to Rs 1.5 crore from Rs 50 lakh post the funding.
Easy exits for investors?
Most investments in the space have not matured enough but some part exits have happened. For example, Mani's Dum Biryani has provided part-exit to its investor Navlok Ventures, which had invested Rs 2 crore three years ago. "We have returned 60% of the capital to the investors," Narayanan had said.
The investors are of the opinion that the mode of exit depends on the size of the business.
"If the business is small then a strategic exit will be more accretive to the seller because strategic investors are more likely to be able to figure out 'what can be done' with a brand. If the business is more mature than financial investors will be more leaning towards a secondary deal," said Sharman.
Like this report? Sign up for our daily newsletter to get our top reports.