Uninor, the Indian arm of the Norwegian telecom major Telenor, has named Yogesh Malik as its chief executive with immediate effect. Malik joined the company in 2011 as the chief operating officer. According to the company, MD Sigve Brekke will step down and formally take over as Uninor chairman after regulatory clearances. However, he will continue to head Telenor's operation in India, as well as its Asian operations.
Commenting on Malik's appointment as CEO, Brekke said, "Yogesh has played an instrumental role in establishing Uninor as the most affordable mobile operator. His focus on operational efficiency and innovations that benefit the mass market has contributed to making Uninor India's fastest growing service provider."
Malik has around 20 years of industry exposure and held various executive positions at Telenor Group's headquarters in Norway. He also served as the chief technology officer of the group in Ukraine and Bangladesh. Earlier, he had worked with companies like AT&T, the Tata and Ericsson in India and Sweden and also for the international operator TIW (now Vodafone) in Canada, China, Brazil and the Czech Republic. Malik holds an MBA from IMD Business School, Switzerland, and a BE in Electronics from Maharaja Sayajirao University, Gujarat.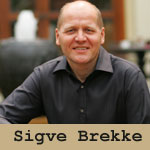 On his stepping down as the company's MD, Brekke said, "Taking responsibility for our Indian operations was always meant to be temporary, but with all the challenges that we faced, my period in India became longer than intended."
"It is now time for me to strengthen my focus on further development of the Telenor Group's Asian portfolio. Asia represents a strong growth potential and I believe Telenor is well positioned to capture more than its fair share of this growth," he added.
(Edited by Sanghamitra Mandal)