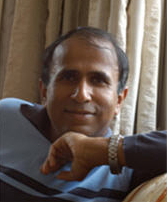 One of education sector's keenly watched enterprises, TutorVista Global, has now come under the UK-based Pearson Group umbrella. Founded by serial entrepreneur K Ganesh, Tutorvista  started out as an online tutoring company patching Indian teachers with students in the US through a technology interface and today straddles four segments covering digital learning content, brick-n-mortar tutorial centres and formal schools. Founder K Ganesh is a seasoned entrepreneur with a strong history of starting green field ventures and helping them develop into robust and successful entities. In his previous entrepreneurial avatar, Ganesh and wife Meena Ganesh founded CustomerAsset, India's top BPO company, which was was sold to ICICI later and it subsequently became ICICI FirstSource. Today, Ganesh has successfully built an education enterprise ( valued at Rs 1,000 crore in just six years following the Pearson deal) and has partially monetized his holdings. In a quick chat with VCCircle, he says, he is now chasing a new target of building a $1-billion education business under Pearson. Excerpts:-
Are you exiting Tutorvista following the Pearson deal?
I am not exiting. I am partly monetizing. There is still significant minority interest left. We want to create to now create a $1-billion company in three years. There is that excitement about taking it from $213 million to $1 billion. We will continue to be independent company with board representation and substantial minority. I am not going anywhere.
How did this deal pan out as an exit route for your investors?
All the investors have exited and they are very delighted. They (Manipal Education, Sequoia and Lightspeed) all exited. I want to thank Sequoia which backed us on an unproven paper plan when we tried to create the company.
Will you continue to be in the driver's seat?
I will continue to be in the driver's seat. I am the founder and I still hold good stake.
What triggered this deal when you were actively chasing a private equity round?
We got a very good valuation and a great opportunity to give returns to investors. With Pearson, we get a great brand, resources, platform and content to grow our India business. Our online business can sell through the wide Pearson channel. We have access to their ready client base. We get to build this further.
How long do we expect you to be in this business? What could be your next big idea?
This is my new idea. I want to create a billion dollar company in the next three to five years.