This is a story about numbers—and backed by numbers.
A story that brings to the fore the manner in which clandestine share transfer deals sometimes happen in India's e-commerce space.
A story that makes evident the top layer's shenanigans to circumvent the law and report transactions that, in all likelihood, never happened.
The setting is WS Retail, the captive seller of India's biggest e-commerce marketplace Flipkart. Also, its largest vendor, by a distance.
The dramatis personae are Sujeet Kumar, former president of operations at e-commerce firm Flipkart and Tapas Jagadeesh Rudrapatna, current whole-time director at WS Retail Services Pvt. Ltd.
Kumar, a civil engineer from Indian Institute of Technology-Delhi, joined Flipkart in December 2008. Earlier president of operations at the e-commerce company, he was head of WS Retail when he left to pursue his own venture, Udaan, in early 2015.
In June 2015, Kumar sold his entire WS Retail stake—23% equity shares and 25% preference shares—to Rudrapatna, documents from the Registrar of Companies (RoC) show.
People privy to the development told VCCircle that, in 2012, both Kumar and Rudrapatna had invested Rs 25 lakh each in the company, and they held 25.08% of preference shares and 23% of equity shares each.
Going by a basic asset-based approach, WS Retail is currently valued at Rs 391 crore. Asset-based valuation is calculated by adding all the assets (fixed + current + inventories) minus all liabilities (long-term and short-term loans).
Since this is the most stripped-down valuation of a company, it cannot be sold below this price. (Under this approach, even the assets are valued at book value on the balance sheet, even though their market value could be much higher.)
So, a 23% equity stake sale by Kumar to Rudrapatna cannot be less than Rs 90 crore (23% of Rs 391 crore).
We compared WS Retail's valuation with that of product distributors like Redington (India) Ltd and TVS Electronics, which are somewhat of a proxy for wholesale suppliers.
For this purpose, we chose enterprise multiple (enterprise value/earnings before interest, tax, depreciation and amortisation) to determine the value of a company. The enterprise multiple looks at a firm as a potential acquirer would.
The enterprise multiple for Redington (India) Ltd and TVS Electronics is 7.6x and 11.6x, respectively. The average turns out to be 9.6x.
Even though listed retail companies like Future Retail, Shopper's Stop, V-Mart, V-2 Retail and DMart are not strictly in the wholesale sector, their median enterprise multiple is similar: 9.17x.
WS Retail, with an EBITDA of Rs 251 crore in 2015-16, should be valued at Rs 2,410 crore, i.e., 9.6 times its EBITDA.
Hence, a 23% equity stake sale by Kumar to Rudrapatna should be worth Rs 554 crore.
Did Rudrapatna actually pay that much? Or was it a nominal transaction? An answer, perhaps, we will never get.
Emails sent to Rudrapatna, Kumar and Flipkart seeking comments remain unanswered.
What do experts make of it?
Arvind Singhal, chairman and managing director of consultancy firm Technopak Advisors, says, "I don't think it's a real transaction...All these complicated structures have been put to comply with our extremely complicated FDI rules. It's just one company and one set of promoters and investors. Any kind of a valuation is purely internal, not external."
These transactions may be complicated, but legally compliant and done to comply with the convoluted policies, he adds.
India bans foreign direct investment (FDI) in multi-brand e-commerce, but e-tailers circumvented that by converting to marketplaces. Slowly, Flipkart distanced itself from WS Retail.
Satish Meena, analyst at Forrester Research, echoes Singhal's thoughts, "These are internal transactions, so the valuations are not going to be the same as an external sale. In a structure such as WS Retail, when the directorship or shares are allocated to one executive, it is with an understanding that he does not directly own the shares, but is owned by the parent company."
"This is not an isolated incident, such on-paper transactions are being practised by many companies to adhere to the complex set of regulations. These are merely paper transactions, there's no money changing hands in this case. I'm sure they have some sort of explanation for this."
Jayesh H, founder partner at law firm Juris Corp, says, "It's common to have structures where employees hold shares on behalf of the group. The transfer happens when one of them leaves the company. Also, it's common to have structures where you have to sell these shares at a pre-agreed price or valuation. There could be a cash transaction, but it could be cash-neutral. I know of structures where loans are given and they are offset against these sale considerations."
Kumar had been running the show at WS Retail since 2012. Flipkart co-founders Sachin Bansal and Binny Bansal (not related) and Kumar come from the same alma mater.
As per RoC data, in 2014, Rudrapatna and Kumar controlled 46% of WS Retail. Both were Flipkart employees and WS Retail was owned by Flipkart co-founders till 2012.
In February 2011, the Bansals transferred their 50% holding in WS Retail to BK Bansal, who is Sachin Bansal's paternal uncle as per a November 2014 report in the Businessworld magazine, and Meenu Gupta.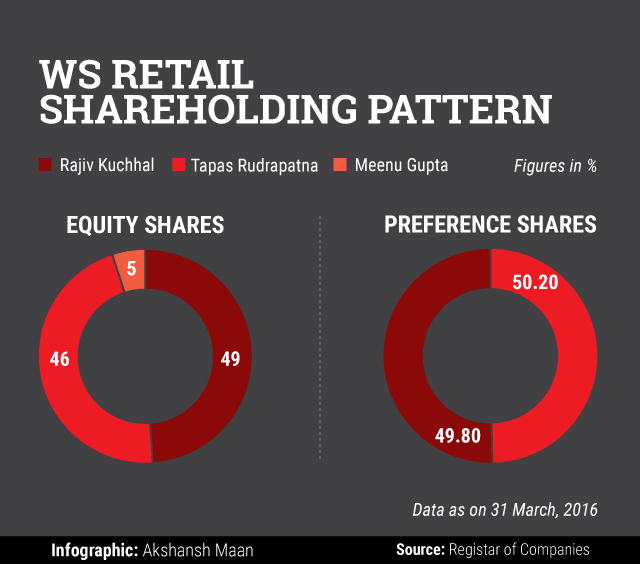 The current shareholding pattern of WS Retail shows that Rudrapatna holds 46,000 equity shares and 4,54,000 preference shares of a total of 10, 05,000 shares of the Bangalore-based company. The other shareholders are Rajiv Kuchhal and Meenu Gupta.
Kuchhal was one of the founding members of Infosys BPO (earlier Progeon), where he helmed operations and, subsequently, 'business transformation'. The IIT-Delhi alumnus then moved to OnMobile as chief operating officer, a position he quit in 2008. An angel investor now, he has since invested in firms like IIT Madras-incubated rural BPO service provider DesiCrew Solutions Pvt. Ltd.
With 224% growth, WS Retail posted sales of Rs 10,163.4 crore for the year ended March 31, 2015. Flipkart Internet Pvt. Ltd, which owns the domain name Flipkart.com, saw its top line jump 268% to Rs 659.4 crore for the same period. Flipkart Internet is owned by Flipkart Marketplace Pvt. Ltd, Singapore, which, in turn, is owned by the main holding firm Flipkart Pvt. Ltd, Singapore.
According to data from VCC Edge, the data research platform of VCCircle, WS Retail posted a profit of Rs 5.2 crore in FY16 on net sales of Rs 13,567 crore.