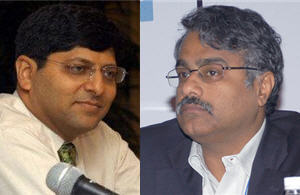 N. "Subbu" Subramaniam (right), a partner with Baring Private Equity Partners India, has quit the Delhi-based private equity fund on a bitter note after 12 years of association with the firm. Subramaniam has quit over "professional differences" with the firm's managing partner Rahul Bhasin (left), sources told VCCircle.
When contacted, Bhasin confirmed the development saying Subramaniam is no longer with Baring. However, the partnership matters are yet to be settled as both the partners have appointed arbitrators to decide on the issue. A PE firm usually gets about 2% of the funds under management and 20% of the profits from investment as carry.
In the case of Baring, the fund management fee would be about $15 million a year (since it manages $750 million) and would also have a huge carry since it made a multibagger exit from Mphasis, besides others. Fund management companies spend only a fraction of their management fee on running the firm while the rest are profits and belong to the General Partners (GPs). Some GPs invest their profits in the funds itself and increase their shareholding. A split among GPs mid-way can create problems in deciding the value of these assets.
In the case of Baring, arbitration proceedings to decide on the valuation of the partnership stake indicate that the split has not been amicable.
Subramaniam told VCCircle: "My employment contract with the firm is over. But partnership related matters are under arbitration." Sources said Bhasin is buying back Subramaniam's stake in the firm, which Bhasin termed it as a "normal business transaction".
Subramaniam said he hasn't firmed up his plans yet. He said he would take some time off for now. "My priority now is to put my son to a college in the US," he said.
Baring manages $750 million in total including $540 million fund which the firm raised last year. The split among two key partners of the firm is believed to have raised concerns among limited partners and also the portfolio firms. Subramaniam, a chartered and cost accountant, was the most senior partner after Bhasin as he was associated with it right from the inception in 1997. 
Bhasin denied if Subramaniam's departure will have an effect on the fund. "He is not a key man in any of the funds," said Bhasin. Under the "key man" clause, limited partners are allowed to pull back their investments or halt new investments if the key management of the general partner or private equity fund manager leave. LPs of Baring include UK's CDC Group and Evolvence Capital. Now the firm is left with three partners, which include, besides Bhasin, Munish Dayal and and Akhil Awasthi.
Baring India has assets under management of approximately $750 million across three funds. The fund manager raised its third India fund of $540 million a year ago. The first fund, which was called Baring India Investments Ltd PCC with a corpus of $40 million, included multi-baggers like Mphasis and Jyothy Laboratories. Baring is believed to have made $250 million on an investment of $25-40 million in Mphasis.
Some of the companies in which Baring holds a majority or controlling stake are Integra Software, AuroMira Energy, and JRG Securities. Baring's recent investments also include a $10 million in Sphaera Pharma, an integrated drug discovery and development company, and an additional 5% stake in Mphasis Ltd from open markets through its third fund.