Sandeep Aggarwal, co-founder of ecommerce firm ShopClues and founder of automobile marketplace Droom, said he would step up his angel investment activity and invest $3 million (around Rs 20 crore) across a dozen startups in 2017.
Aggarwal would invest in consumer internet companies with a focus on healthcare, retail and fintech besides enterprise tech and data science, he said in a statement.
Speaking to VCCircle, Aggarwal said he would invest from the personal wealth he made through the earnings from his career abroad as an investment professional. He would streamline his future investments through his family office Digital Route.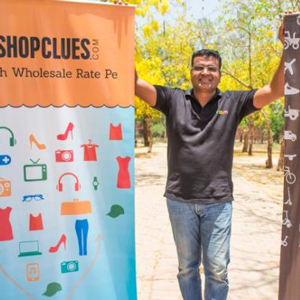 Aggarwal, who co-founded ShopClues in 2011 and later launched Droom in 2014, has been a startup investor since 2003, he said. In 2016, he invested $500,000 in seven early-stage firms in India and overseas such as Dekoruma, Wydr, Shopsity, Data Guise, Give Club, Duriana and Curo Healthcare. Besides India, Aggarwal plans to look at Southeast Asia for startup investments. Going forward, he would write cheques of $100,000 to $300,000 for select startups.
Over the last six years, ShopClues has raised around $250 million and was valued around $1.2 billion during its last fundraising a year ago. Aggarwal, however, had stepped down from his executive role with ShopClues in 2013 following legal troubles over insider trading charges in the US which have not yet been settled. Aggarwal recently got into a public fight with his estranged wife Radhika Ghai and Sanjay Sethi—ShopClues' other co-founders—whom he accused of thwarting his re-entry into the company. Radhika is chief business officer while Sethi is chief executive officer at ShopClues. ShopClues investors including Tiger Global, Nexus and Helion have, however, backed the management led by Sethi and Radhika.
Aggarwal's second consumer internet venture Droom has raised around $45 million from a clutch of investors and claims to have achieved $250 million gross merchandise value (GMV) run rate on an annualised basis. "The current health and success of Droom owes a lot to the faith bestowed upon me by my early-stage investors and the funding received from them. As an early-stage entrepreneur, I often felt helpless myself at the lack of funding and mentorship during the most crucial phases of my business," Aggarwal said.
Aggarwal said he would be interested in investing early stage initiatives from tier-2 and tier-3 towns in India.
"I won't be just a financial investor but a mentor as well. I will bring to the table my experience as an operating founder," he said.
Aggarwal also said he is a limited partner in three venture capital funds in three different countries, including India. He, however, declined to name the funds.
Many leading Indian tech startup founders such as Flipkart's Sachin Bansal and Binny Bansal, Snapdeal's Kunal Bahl, Paytm's Vijay Shekhar Sharma, InMobi's Naveen Tewari and Freecharge's Kunal Shah have been prolific angel investors backing and mentoring dozens of startups besides running their own ventures. Some of them figure among the most active angel investors, according to this VCCircle analysis.
Like this report? Sign up for our daily newsletter to get our top reports.