As stock market valuations hit a peak in the first quarter of 2015 and the primary market window opened up for companies to go public, private equity (PE) firms got busy scripting exits from their Indian portfolio firms.
PE firms announced exits worth $5.4 billion across as many as 264 deals, as per preliminary data collated by VCCEdge, the research platform of VCCircle. In terms of the value of exits, this is the second best year ever behind 2012 when there were a record $6 billion worth of exits.
However, data for that year was skewed by two large transactions. While General Atlantic and Oak Hill Capital Partners exited Genpact by selling their stake to Bain Capital and GIC, Carlyle exited HDFC.
In terms of the number of exits, this was the third best year.
While open market stake sale of listed companies remained by far the most preferred exit route, fewer PE firms opted for this option in 2015. This is explained by a correction in the stock market. At the same time, M&As and IPO-led exits gained pace as also secondary deals where one PE firm bought out a stake held by another. Indeed, this was a record year for secondary exits in terms of the value of transactions.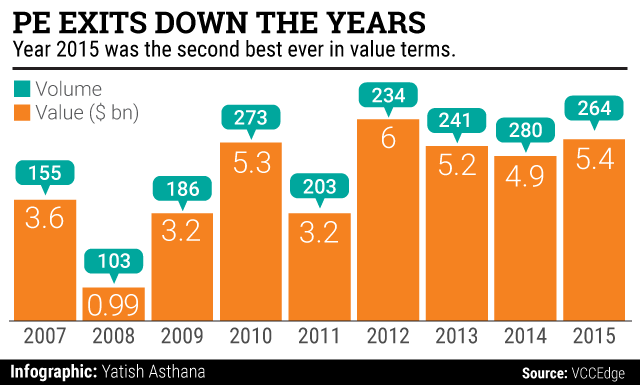 Here are the top PE exits of the year:
TPG Capital-Shriram City Union Finance
Two years after TPG Capital struck a multi-bagger from Shriram Transport Finance, it came back to sell its stake in Shriram Group's other financial services firm Shriram City Union Finance by selling its stake to Apax Partners for around $357 million. It is estimated to have more than doubled its investment in dollar terms in seven years.
Baring Asia Private Equity-Lafarge India
French cement producer Lafarge acquired a 14 per cent stake in Lafarge India Pvt Ltd from Baring Asia Private Equity for $304.1 million. The PE firm generated 38 per cent in gross returns in just two years from the special situation deal. The deal was one of the rare instances where a multinational firm divested a minority stake in its India operations to a private equity firm to fund growth. The buyback was a precursor to completing a multi-billion dollar global deal where Lafarge and Holcim merged to create the world's top cement company.
KKR-Bharti Infratel
Marking its maiden exit in India, alternate investor KKR India Advisors sold its entire stake in its seven-year-old investment in Bharti Airtel Ltd's telecom tower arm Bharti Infratel. It sold its stake for $252.21 million through open market transactions. In December 2007, KKR was part of the consortium of investors that had put in about $1.25 billion in Bharti Infratel. KKR, which had invested close to $250 million (around Rs 1,000 crore then), is estimated to have made a 70 per cent return in rupee terms over a seven-year period and just under 10 per cent in dollar terms.
ChrysCapital-Mankind Pharma
In May this year, ChrysCapital exited its seven-year-old investment in cardiovascular medicines and condom manufacturer Mankind Pharma in a secondary deal to Capital International for $200 million. ChrysCapital had invested $21 million in Mankind almost seven years ago from its fourth fund. It makes for a showcase exit for ChrysCapital, which is raising a new fund.
Canaan Partners-India portfolio
In a rare deal, Canaan Partners sold its entire India portfolio to JP Morgan Partners for around $200 million as part of its decision to cease India operations. The early-stage investor had a portfolio of 13 companies and had invested $160-170 million since 2005. The portfolio included location-aware mobile advertising platform AdNear; matrimonial site BharatMatrimony.com; B2B marketplace for used vehicles CarTrade; microlender Equitas; and real estate portal IndiaProperty.com, among others.