Positive business and investment sentiment that buoyed the stock market early this year also gave more comfort to Limited Partners (LPs), who are the investors in private equity (PE) and venture capital (VC) firms, to loosen their purse strings.
Indeed, around $5 billion was raised across some 37 India-dedicated funds cutting across investment strategies and asset classes, as per VCCEdge, the data research platform of VCCircle.
Although last year the top funds raised were much bigger in size (click here), some big PE funds made final close this year.
Here is a list of the top five fundraisers in 2015:
Indium Fund V
Buyout specialist India Value Fund Advisors' fifth fund made the first close at $500 million in April, within five months of its formal launch. The firm topped it up with $200 million more in another three months, pooling in money from a total of 25 investors including sovereign funds, pension funds and fund of funds from across the globe. Part of the money has already been used to roll over an existing investment from the previous fund in broadband firm Atria, besides adding some new firms to the portfolio.
WestBridge Crossover Fund
Public markets-focused investor WestBridge Capital added $575 million to its evergreen fund to take its committed capital to $1.4 billion. This makes it the single-largest running PE-styled investment fund dedicated to India. The PE firm added to its firepower as it finds itself in a sweet spot to deploy capital given the correction in the stock markets ahead of what analysts see a long-term bull run.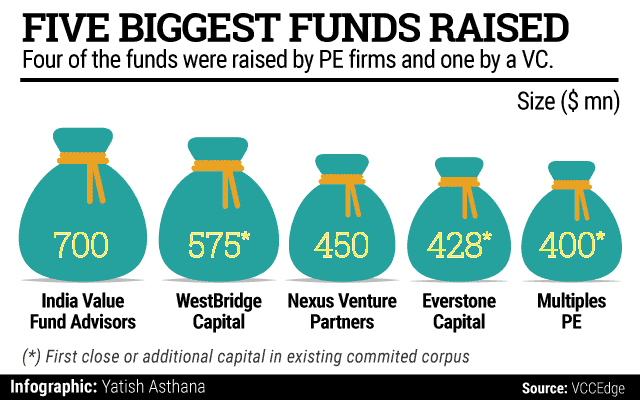 Nexus Ventures IV
This is the sole venture capital fund in the top-five list this year. Nexus Venture, which has been actively backing US startups with no apparent India link, raised $450 million in a new fund. This took its assets under management to over $1 billion, one of the few VC firms to reach the milestone apart from Sequoia Capital. Most of the capital commitment came from repeat investors including endowments, foundations and financial institutions across North America, Europe and Asia.
Everstone Capital Partners III
Alternative investment firm Everstone Capital made a final close of its third sector-agnostic PE fund by adding $428 million to take the corpus to $730 million, one of the largest of its kind raised in the past few years. International Finance Corporation, the World Bank's private-sector investment arm, is one of the key LPs in the fund. More than half of the capital for the fund came from North America while Europe constituted about 37 per cent.
Multiples Private Equity Fund II
Multiples Private Equity achieved the first close of its $600 million targeted fund. The fund was launched in April this year and has raised $400 million so far. Canada Pension Plan Investment Board and CDC have come as return investors, having backed the firm's maiden fund a few years ago. This makes it the second new-generation PE firm floated by an industry professional after quitting an established fund house, besides Creador, to reach a fundraising milestone for a successor fund vehicle.