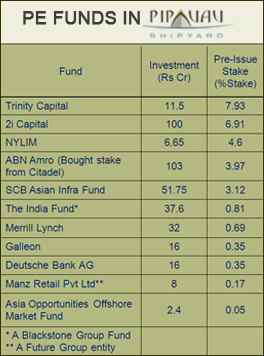 One of India's largest shipbuilding facilities, Pipavav Shipyard, has received SEBI nod for its IPO. The public offering would involve sale of over 8.68 crore equity shares of Rs 10 each through a 100% book-building process. Pipavav has been a favourite with investors and private equity funds. The firm has raised funds from the likes Blackstone, NYLIM Jacob Ballas, 2i Capital, Trinity, Deutsche Bank among others (see table).
Pipavav has also proposed to make a pre-IPO placement of 2,850,000 shares, which is more than a quartter of shares in the issue. The company has reserved 26 million shares for its employees. The lead managers for the IPO are JM Financial Consultants, Citigroup Global Markets India and Enam Securities.
Pipavav, located on the west coast of India adjacent to the maritime sea lane between the Persian Gulf and Asia. The shipyard has been co-promoted by Punj Lloyd and SKIL Infrastructure. The other promoters include IDBI, IL&FS and Exim Bank. Earlier this year it had received an order for building 26 Panamax Bulk Carriers worth about Rs 2,050 crore.
Pipavav is mainly involved in four tasks - commercial ship building, ship repair, offshore fabrication and servicing naval shipbuilding and repair. Singapore's SembCorp Marine, which also has a strategic investment in Pipavav, is advising it on yard layout and manufacturing processes. Pipavav has also tied up with Korea Maritime Consultants Co.