Meritnation.com, the online K-12 education website owned by Info Edge (India) Ltd, has reported a fourfold increase in operating losses even as its revenues went up 140 per cent in FY13. Applect Learning Systems, a subsidiary of Info Edge which runs the site, reported revenues of Rs 9.82 crore in FY13, with a negative operating EBITDA of Rs 21.4 crore.
Info Edge, the largest consumer Internet firm in the country by market value which runs sites such as Naukri.com and 99acres.com, also reported revenues of its other portfolio companies in a disclosure. VCCircle/Techcircle.in reported Zomato's numbers yesterday.
These investments include its subsidiaries Zomato Media Pvt Ltd and Applect besides associate companies where it owns less than 50 per cent stake – namely, eTechAces (Policybazaar.com), Kinobeo Software (Mydala), Canvera Digital (Canvera), Happily Unmarried Marketing (happilyunmarried.com) and Nogle Technologies (Floost).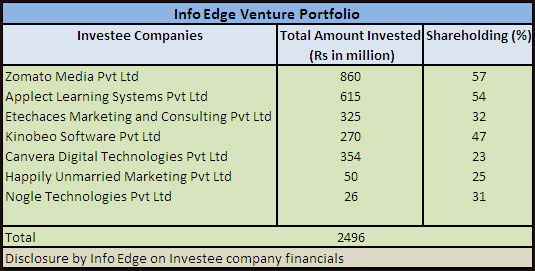 The five associate companies collectively reported 61 per cent increase in FY13 revenues to Rs 86.58 crore, with operating losses increasing 50 per cent to Rs 45.6 crore. However, Info Edge did not disclose individual financials of the associate companies as it was done for its subsidiaries.
On the other hand, Info Edge's wholly owned subsidiary Allcheckdeals.com, a real estate brokerage firm, reported improvement in revenues and narrowing losses. The company reported 32 per cent increase in revenues in FY13 to Rs 14.18 crore, with losses narrowing to Rs 72 lakh, as compared to Rs 3.7 crore in FY12.
On an aggregate basis, Info Edge has invested a total Rs 249.6 crore across these seven early-stage companies. They reported 80 per cent increase in revenues to 107.78 crore with losses widening 82 per cent to Rs 77.06 crore.
In March this year, Info Edge also wrote off its entire investment of around Rs 29.3 crore ($5.4 million) in Ninety Nine Labels Pvt Ltd.
(Edited by Sanghamitra Mandal)