The number of private equity exits in the three months ended September hit the lowest in the past 17 quarters but a few big-ticket deals done through the strategic route inflated the quantum of the transactions.
The number of PE deals fell 7%, to 55, in the September quarter compared to the corresponding period last year, according to the Quarterly Deal report by News Corp VCCEdge, the data and analytics division of The VCCircle Network. The number of exits, however, was higher than the 53 secured in the July-September quarter of 2012, when exits had hit the nadir. Fifty-three deals, however, are way below the 99 deals in the January-March quarter of 2015, when the exits had peaked.
Mergers and acquisitions (M&A) were the most preferred route of exits for most PE firms. In fact, all the top three exits during the quarter were accomplished through M&As. According to the Edge report, Temasek Holdings Advisors India Pvt Ltd led the chart by exiting Bharti Telecom at $657 million
This was followed by KKR's exit from Gland Pharma at $577million and Capital Square Partners and CX Partners' exit from Minacs Pvt Ltd.
Overall, 26 exits were recorded through the M&A route in the quarter in question against 23 in the same period last year. M&As contributed more than 50% to the total exits worth $2.08 billion recorded by PE firms.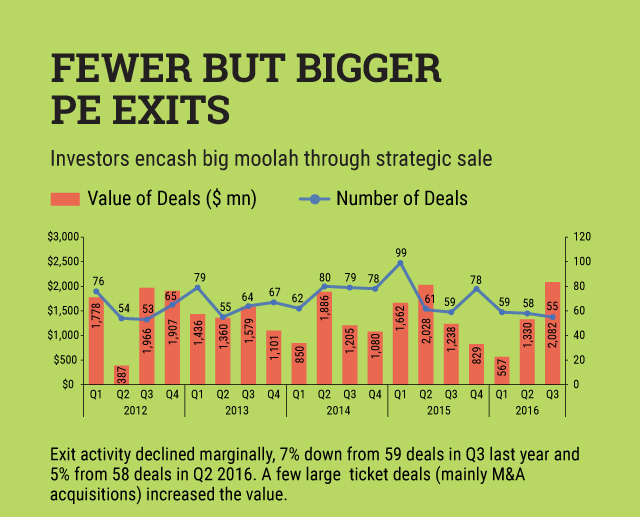 "What we are also seeing is that instead of secondary sale, PEs are going for M&A mode to exit," said Chander Sawhney, partner & head - valuation & deals, at Corporate Professionals Capital Pvt Ltd, a Delhi-based investment bank.
"With IPO market also ripe, we will see more PE exits via the public issue," he added.
After M&A, open market transaction emerged as the popular exit route with 17 deals, followed by secondary deals at 7, equity capital market deals at 4 and one exit that happened through buyback.
The information technology (IT) sector led the exits by PE firms with 13 deals during the July-September quarter. This was higher 10 exits the sector witnessed in the same period last year. IT was followed by financials, consumer discretionary and healthcare sectors as largest exit providers.
Like this report? Sign up for our daily newsletter to get our top reports.