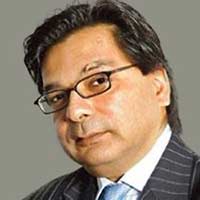 Avendus Capital Pvt. Ltd, a financial services company controlled by private equity giant KKR & Co., has appointed Alok Vajpeyi to lead its alternative strategies business.
Vajpeyi will be the chairman of Avendus Capital Public Markets Alternative Strategies LLP and also direct the firm's offshore initiatives. He will also be an external adviser to Avendus Group CEO Ranu Vohra, the company said in a statement.
Vajpeyi has held senior management positions at Swiss Bank Corporation, Barclays' investment banking arm BZW, DSP Merrill Lynch Investment Managers and Japanese financial services group Daiwa.
Vohra said Vajpeyi's experience will boost the company's fast-developing alternative strategies business in partnership with Andrew Holland and Vaibhav Sanghavi.
The public market alternative strategies business manages two funds—Avendus Absolute Return Fund and Avendus Enhanced Return Fund.
The Avendus Absolute Return Fund is a hedge fund registered with the capital markets regulator Securities and Exchange Board of India as a Category-III alternative investment fund. It has assets under management of $510 million.
The hedge fund is managed by CEOs Andrew Holland and Vaibhav Sanghvi and was launched in February last year. It has been tapping into a network of high-net-worth individuals, multi-family offices and corporate treasuries to raise the corpus.
The Avendus Enhanced Return Fund has assets under management of $117 million, the company said, without disclosing any details.
Avendus has hired several executives over the past year and a half to lead various businesses. It had recruited Holland from Ambit Investment Advisory in September 2016. In late 2016, it hired Dhiren Mehta from KKR to grow its credit business and Sandeep Thapliyal from RBL Bank to head its non-banking financial business.
In March 2017, Avendus appointed Akash Hariani to lead its multi-family office business. In July, it named Motilal Oswal Financial Services Ltd's Sameer Kamath as group chief financial officer. Just last month, Avendus appointed  Sudeepto Deb as executive director and head of equities at its wealth management subsidiary.