According to the 2011 census, 6% of India's population lives in slums. Such settlements are the side effects of unplanned urban development and a symbol of the state's failure to provide dignified living conditions to nearly a fifth of its urban masses. Whilst living conditions in Indian slums are still abysmal, their evolution into a critical vote bank over the past decade coupled with the recent shortage of bluecollar workers has transformed these areas into hotbeds of aspirational consumption. The high penetration of mobile phones, TVs as well as education in slums is evidence of the high propensity of this economic stratum to consume entry-level aspirational products.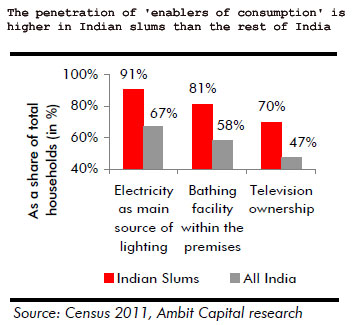 The transformation in the Indian slum economy over the past decade
The explosion of India's cities as hubs of economic activity post-1991 coupled with unplanned urban development meant that India's slum population expanded meaningfully over the following decade. Consequently, slum dwellers, who were previously fragmented, started forming agglomerations, and were thereby perceived as captive vote banks that politicians were suddenly keen to appease. This dynamic over the past few years has earned Indian slum dwellers greater legitimacy whilst the recent shortage of bluecollar workers has meant higher wages for this class.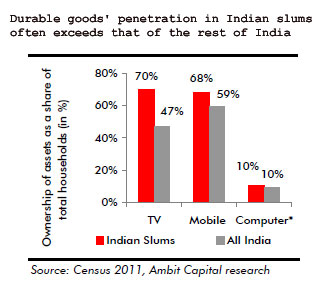 The high penetration of 'enablers of consumption' in Indian slums
The rising legitimacy of slums in India in turn has meant improved access to amenities like electricity and drinking water over the past few years. Census data on Indian slums suggests that Indian slums are better off than the rest of the country on access to 'enablers of consumption' such as electricity availability and access to bathing facilities.
Slums as hotbeds of 'aspirational consumption'
The combination of increasing penetration of 'enablers of consumption' in Indian slums and rising wages of blue-collar workers has meant that these areas are now emerging as hotbeds of 'aspirational consumption'. For instance, a typical household's key assets in an Indian slum are likely to include expensive durables like a television, at least one mobile phone, light electricals such as a fan, and kitchenware. In fact, the penetration levels of mobile phones and TVs in India's slums exceed that of the rest of India.
As regards non-durables, spending on food, processed food (including noodles, branded chips and biscuits) as well as personal care products (such as talcum powder, hair oil and soap) accounts for 40-50% of household spends. Finally, households in slums opt to spend significant amounts (in the range of 15-20% of monthly income) on discretionary heads like 'education' as evinced by the high spending on schooling as well as supplementary expenses like 'tuitions'.
Investment implications
The high propensity to spend on aspirational consumer products as well as on services such as education in Indian slums is indicative of the structural drivers underpinning the entry-level aspirational demand story in India. This is turn suggests that entry level aspirational consumption - covering products such as branded soaps, branded hair oil, branded toothpaste and branded pressure cookers is likely to remain resilient.
(Ritika Mankar Mukherjee is analyst with Ambit capital.)
To become a guest contributor with VCCircle, write to shrija@vccircle.com.