India Inc is in the midst of a consolidation overdrive with the number of announced merger & acquisition (M&A) deals hitting an all-time high in the first six months of 2016, data compiled by VCCEdge, the data research platform of VCCircle shows.
Although lack of mega billion dollar M&As meant the cumulative announced value of deals is just about half of the $26.75 billion clocked in the first half of 2011, with a deal every nine hours, M&A transaction volume in the January-June period was at a new record. In 2011, Vodafone and BP had struck multi-billion deals in India and that had pushed up the announced value of M&A activity in the country in the comparable period.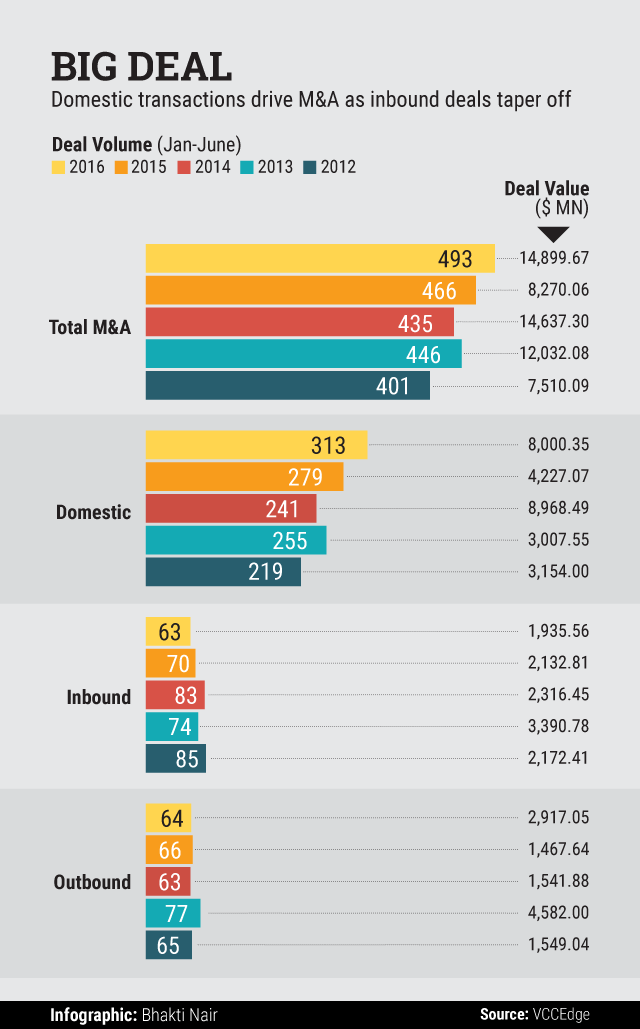 The data captures both publicly announced deals as well as transaction details shared by investment bankers and law firms for hitherto unannounced M&A activity.
The top deals during the period were recorded in commodity and the renewable energy space with Ultratech Cement Ltd announcing acquisition of Jaiprakash Associates Ltd's cement plants and Tata Power Co Ltd's purchase of Welspun Renewable Energy Ltd's wind and solar power portfolio.
Both were domestic deals, the key driver of M&A activity in the country. While domestic deals continue to show an upward trend both in terms of volumes and value, inbound deals keep sliding. This shows strategic acquirers are not as bullish on India as the country's rising foreign direct investment (FDI) statistics suggests. FDI in India hit an all time high with $40 billion worth of inflows for the year ended March 31, 2016.
Meanwhile, the value of outbound deals have shot up to reach the highest level in three years while volumes have stayed in the narrow range. Value of deals is not the best indicator as it can get skewed by a few large transactions. The number of outbound deals shows Indian firms are playing it cautiously after having taken a hard hit on the balance sheet absorbing big ticket deals in the past.
Overall, the M&A activity looks poised for better tally. In a recent note, consulting firm EY said M&A activity in India will stay positive through 2016, building on the strong momentum witnessed in the previous year and driven by improving macroeconomic fundamentals.
Indeed, there were two billion dollar plus M&As announced last month alone with Nirma inking a deal to buy Lafarge India's cement units and China's Fosun striking a big deal to buy majority stake in KKR-backed Gland Pharma.