Jaipur-based non-banking financial company Finova Capital Pvt. Ltd has roped in banking sector past master Rajiv Sabharwal as a strategic adviser.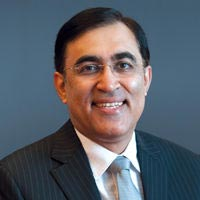 Sabharwal, who is currently a partner at True North Managers LLP, formerly India Value Fund Advisors, will steer Finova's overall business strategy, growth and development verticals, the company said in its statement.
A veteran of over 26 years, Sabharwal was an executive director on ICICI Bank's board before joining True North. He has also been part of several Reserve Bank of India and Indian Bank's Association committees.
"Rajiv brings a wealth of experience in the banking and financial domain, which is going to be vital for us across a range of sectors, including strategic direction, credit and customer understanding, and the network of relationships in the industry," said Mohit Sahney, managing director and CEO, Finova Capital.
Founded in 2015 by Sahney and his wife Sunita, Finova lends to financially excluded, unorganised micro, small and medium enterprises. Sahney, a 17-year banking veteran, used to lead the mortgage business of ICICI Bank in Mumbai, besides being the head of the bank's Rajasthan zone operations.
Finova's client base include small-time manufacturers, handymen and service providers working on a 30-35% margin, such as electricians, plumbers, carpenters, paan-walas, milkmen, laundrymen and hairdressers. The firm extends loans against mortgages, typically taking 2-3 days to process a loan application. It charges an interest rate of 21-25%.
Currently bootstrapped, Finova started off with equity of Rs 10 crore and a term loan of Rs 30 crore.
It currently has a loan book of Rs 28 crore, and aims to close this year at Rs 100 crore. So far, it has extended loans to more than 300 customers. It is also in talks with investors to raise funds.